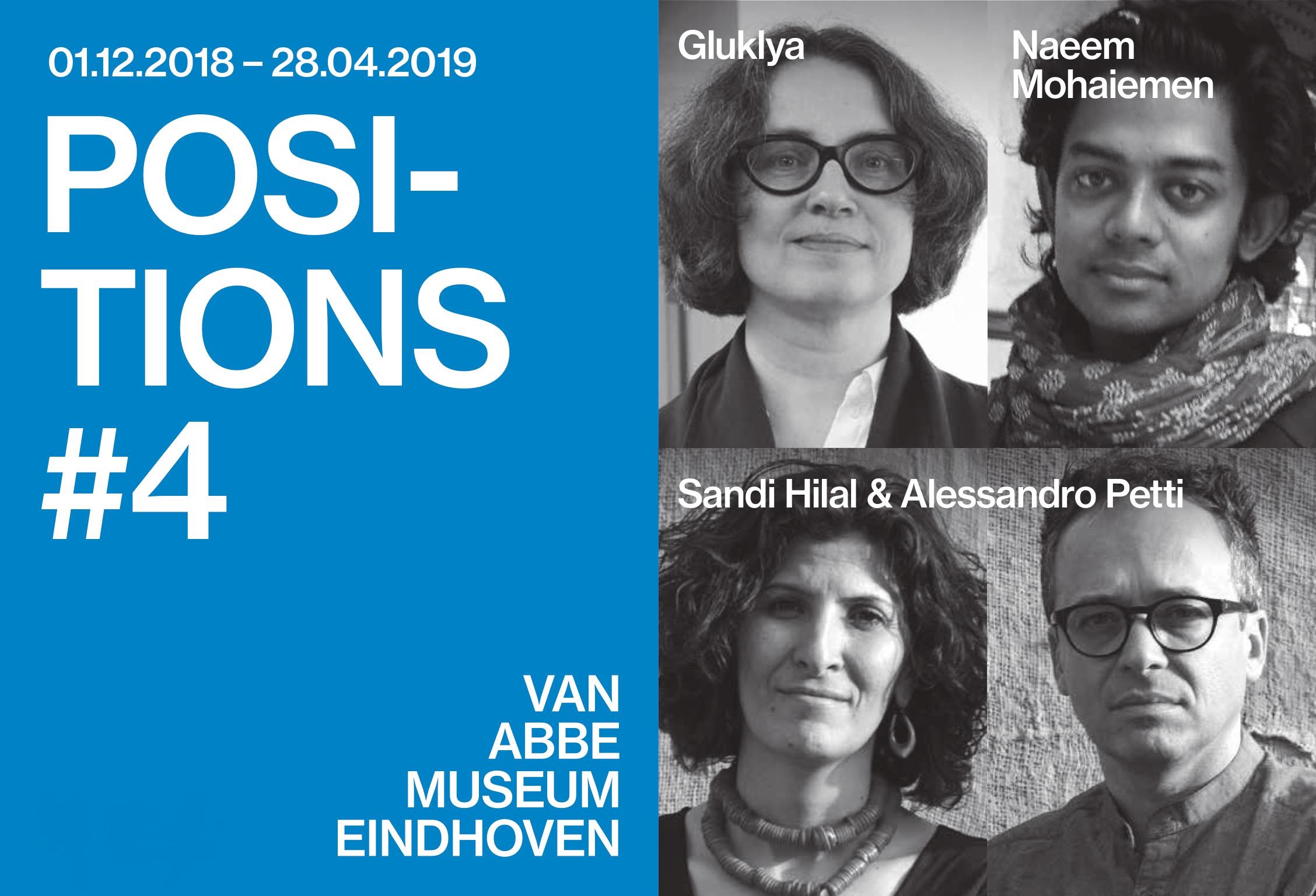 Opening Positions #4
1 december 2018
Met genoegen nodigen we je uit voor de feestelijke opening van de vierde editie van Positions op zaterdag 1 december van 15.00 uur uur tot 18.00 uur in het auditorium van het Van Abbemuseum.

Positions #4
Positions #4 presenteert vier internationale kunstenaars - twee individuen en één duo: Gluklya, Naeem Mohaiemen, Sandi Hilal & Alessandro Petti. Om werk te maken over het leven in de hedendaagse wereld, delen deze kunstenaars een activistische visie die voortbouwt op de geschiedenis van het kolonialisme, het bestaan in bezet gebied en de effecten van politieke conflicten. De kunstenaars gebruiken film, tekeningen, architectuur, maquettes, archieven, teksten en kleding om gedetailleerde beelden te schetsen van leefomstandigheden in bepaalde delen van de wereld, zowel dichtbij als ver weg van Eindhoven. Hun artistieke visies bevinden zich vaak op het kruispunt van culturele antropologie, forensische wetenschap, de documentaire film, zelforganisatie- en samenwerkingsvormen. De vier kunstenaars leren ons - elk op een andere manier - over het vermogen van verschillende samenlevingen en marginale gemeenschappen om met moeilijke levenssituaties om te gaan en te overleven, zo niet te gedijen, ondanks de krachten die hen boven het hoofd hangen.

Om 16.00 uur verzorgt curator Diana Franssen het welkomstwoord, gevolgd door een introductie over de tentoonstelling om 16.15 uur door Charles Esche (directeur). Daarna is er ruimte om de tentoonstelling te bezoeken en om samen een drankje te drinken.

De tentoonstelling is gratis te bezoeken, graag reserveren via het reserveringsformulier op de website.

De tentoonstelling is te bezoeken van 01.12 tot en met 28.04.2019.

lees meer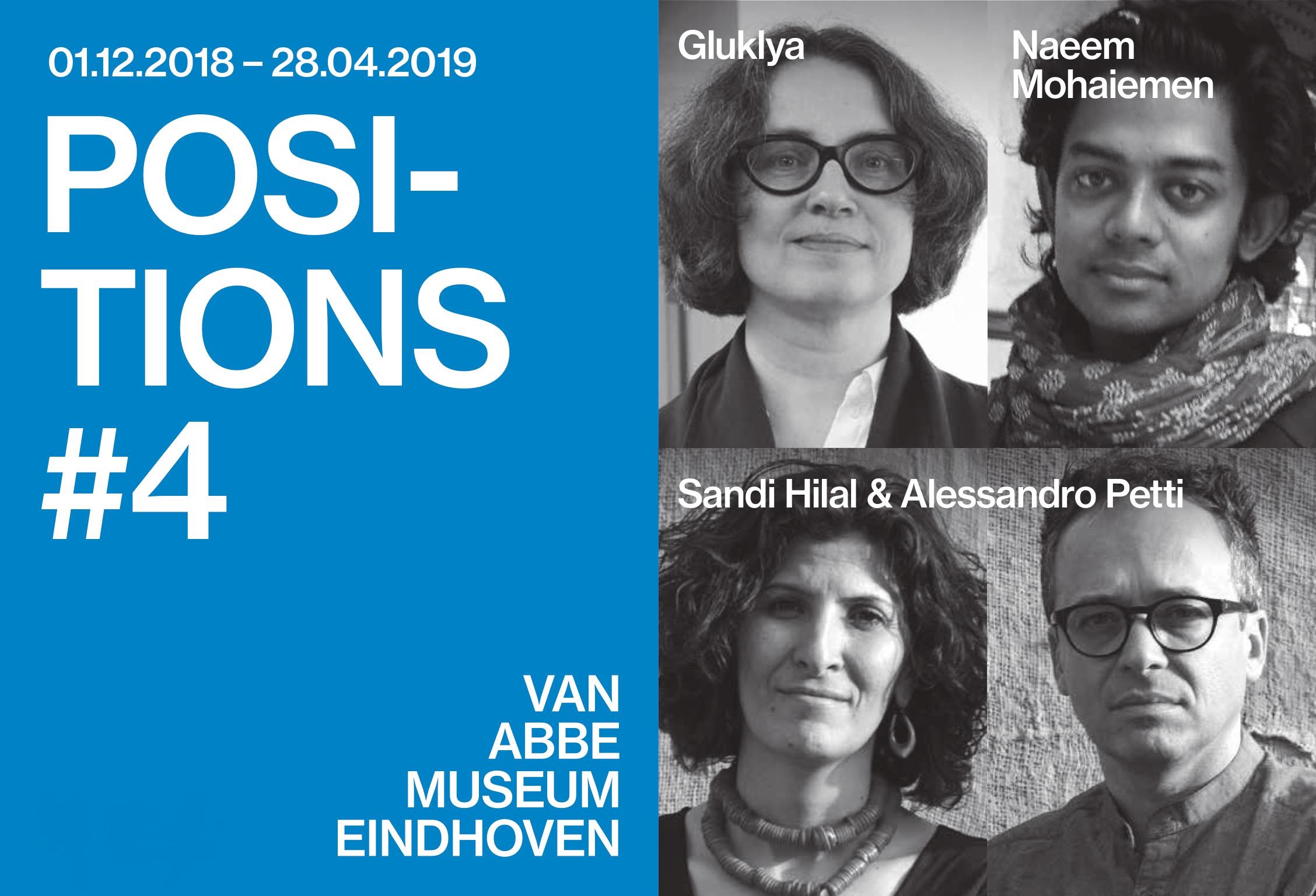 Opening Positions #4
1 December 2018
We are pleased to invite you to the opening of the fourth edition of Positions on Saturday 1 December from 15.00 till 18.00 in the auditorium of the Van Abbemuseum.

Positions #4
Positions #4 introduces the work of four international artists – two individuals and one duo: Gluklya, Naeem Mohaiemen and Sandi Hilal & Alessandro Petti. These artists all share an activist practice that draws on the history of colonialism, occupation and political conflict to make work about living in the world today. The exhibition includes film, drawing, architecture, models, archives, texts and clothing to build up elaborate images of particular parts of the world and conditions in places both near and far away from Eindhoven. Often the artistic practices sit at the crossroads of cultural anthropology, forensic science, documentary filmmaking, self-organization and collaboration. All four artists teach us - each in a different way - about the capacity of different societies and marginal communities to cope with difficult life situations and survive, if not thrive, despite the powers exercised over them.

At 16.00 curator Diana Franssen will give a welcome speech, followed by an introduction about the exhibition at 16.15 by Charles Esche (director). After both speeches there is time to visit the exhibition and to have a drink together.

The exhibition is free to visit, but please make a reservation via the form on the website.

The exhibition can be visited from 01.12. until 28.04.2019

read more
Van Abbemuseum
Bilderdijklaan 10
5611 NH Eindhoven
The Netherlands
T: +31 40 238 1000
info@vanabbemuseum.nl
www.vanabbemuseum.nl
Openingstijden: di t/m zo 11.00 tot 17.00 uur.
1e donderdag van de maand: 11.00 tot 21.00 uur.


Tijdens evenementen wordt er gefotografeerd en soms gefilmd. Geef het bij het personeel aan als je niet op foto of film vastgelegd wil worden.

Opening hours: tu-su 11.00 - 17.00.
1st Thursday of the month: 11.00 - 21.00.

Our events are being photographed and sometimes filmed. Please inform our staff if you are not comfortable with your image being taken.



Het Van Abbemuseum wordt onder andere ondersteund door / is supported by: