Corona update: 26 March | students
By now it has been more than a week and a half since the school buildings were closed. The government recently announced new measures until 1 June and is discussing the impact of these measures on higher education. The AHK sent a message yesterday with frequently asked questions and answers. As CvA-board, we are working together with faculty and staff on a daily basis in order to ensure continuing education and to keep study delays to a minimum for all students.
Online education is getting more shape every day, the study secretariat is working closely with the faculty to organise online auditions as much as possible, the international office managed to bring some students residing abroad back to the Netherlands in time, just to mention a few. It is and remains an unreal situation, in which together -but physically separated- we have to find creative solutions for new issues.
You continue to amaze us with your beautiful initiatives. We realise that there are several questions for which we do not have the answers yet, but everyone is working hard to have these answers available as soon as possible. We wish you all the best and hope that you take good care of yourself and each other.
Kind regards, also on behalf of Okke Westdorp and Edo Righini,
Janneke van der Wijk
We would like to keep you informed on a weekly basis about current developments concerning the coronavirus and the impact on our education. In this mail:
Impact of further measures by the government
Online education
Playing together remotely

Impact of further measures by the government
The government has announced further measures against the coronavirus. The Conservatorium van Amsterdam is currently awaiting the guidelines for higher education about the measures after 6 April. When we have more information, we will let you know as soon as possible.
If you have any questions about the consequences of these measures, for example concerning the payment of tuition fees, please visit
ahk.nl/corona
and see the frequently asked questions for students.



Online education
More and more teachers and students are finding ways to teach and follow lessons online. Although we are still in the start-up phase, we are proud of all the initiatives that have already been taken. For example, the CvA Voice Department managed to organise an online meeting to discuss how they would be moving the department forward at this time with 42 students and teachers - the whole group together!

It is important to keep in touch with your teachers and where possible follow online education to reduce study delays. In addition to Skype and Teams, Zoom is frequently used. The responses after using this app have been very positive. Students can join without an account or can create a basic account for free.

There are also many possibilities through CvA Online, both to follow courses for students as to provide online education by teachers. For more information you can contact Yaniv Nachum via yaniv.nachum@ahk.nl.

Needless to say, home schooling is still not allowed.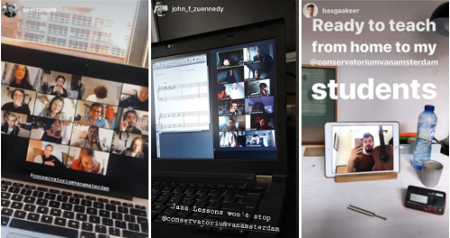 On Instagram there are plenty of stories shared about online lessons. Check them out in our
Instagram Stories
. Do you follow lessons online yourself or have you found a way to keep practicing at home? Share it with us and tag the Conservatorium van Amsterdam.



Playing together remotely

Many students miss the possibility to play together. Fortunately, we see enough creative initiatives that connect students and other musicians. A wonderful example is last Sunday's balcony concert on the Javastraat/Javaplein in Amsterdam. A group of CvA students and alumni decided to play Bach's Matthew Passion together for the neighbourhood and for each other. See a fragment of the
Javaplein Passion Project
below: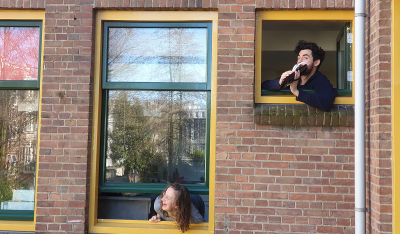 Have you also found a way to play together remotely with your fellow students or other musicians? Let us know via
cva-communicatie@ahk.nl
or tag the Conservatorium van Amsterdam on social media.