On Friday 20 January, Kunstinstituut Melly in Rotterdam will inaugurate exhibitions featuring works by Dutch artist Jennifer Tee, German artist Anna Witt, and Indonesian artist collective Tromarama. The solo exhibition of Jennifer Tee marks the first occasion that the artist's complete Tampan Tulip collage series is presented in its totality. Additionally, Tee's exhibition will be activated almost every week between January and May with a specially commissioned hour-long performance. Alongside this exhibition, Dutch artist Sijben Rosa will commence a community-driven project to be developed over the course of the year and presented in December 2023. In the multi-year initiative 84 STEPS—an evolving activity-based exhibition staged throughout the third-floor of Kunstinstituut Melly—two new artworks will be included: a large-scale light installation by Tromarama, and a site-specific environment for live ASMR performances by Anna Witt.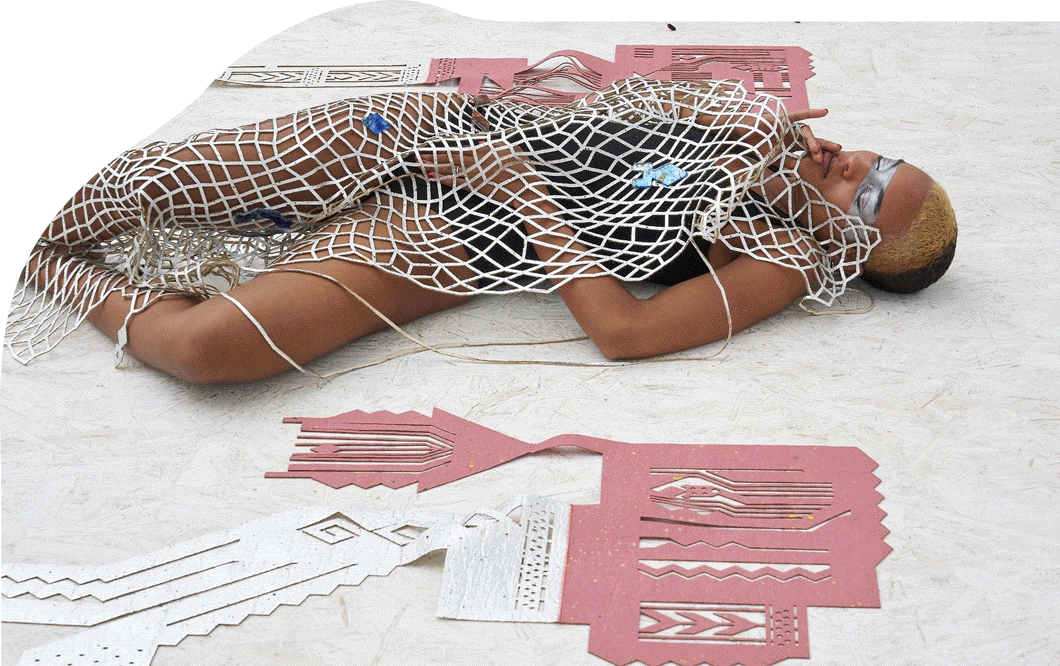 Jennifer Tee: Still Shifting, Mother Field
Newly commissioned artworks, including a performance, ceramics, and textiles, are presented in this major solo exhibition by Dutch artist Jennifer Tee. Still Shifting, Mother Field also brings together the complete Tampan Tulip series created by the artist for the first time. These are twelve large collages created from pressed tulip petals, which Tee uses as the primary material in creating her collages. The compositions picture abstract patterns and design motifs drawn from Tampan weavings (ceremonial textiles), found in the Lampung region of southern Sumatra. As with many of the original textiles, Tee's collages often include shipping imagery, making reference to maritime trade, as well as ancestral and celestial beings. Tampan patterns also inform the series of shrouds displayed in the exhibition. During the course of the exhibition, the shrouds will be worn by dancers during performances held in the gallery.

Tromarama and Anna Witt in 84 STEPS
The collective Tromarama is a Bandung-based artist collective founded in 2006 by Febie Babyrose, Herbert Hans, and Ruddy Hatumena. The three met while studying together and began to create works combining video, installation, computer programming, and public participation. In their work, Tromarama reflects on the cornerstones of Indonesia's political and cultural environment, and on forms of perceptive engagement in our hyperreality that applies globally. For 84 STEPS, Tromarama presents a site-specific iteration of their installation Soliloquy (2018-2022). The installation features a wide array of second-hand lamps that are powered if and when 'kinship' is typed on the now infamous social media platform, Twitter. The flashing bulbs transcribe layers of human desire, as well as individual stories that manifest users' connections forged across physical and digital realms.

German artist Anna Witt is interested in the construction of cultural stereotypes and the place of the individual within social systems. Experimental and performative art forms are essential to her art-making. For 84 STEPS, Witt presents a new site-specific iteration of her work Soft Destructions set to become a stage for live ASMR performances. The term ASMR (Autonomous Sensory Meridian Response) refers to a physical reaction consisting of a pleasant tingling sensation which many people find soothing. It became popular in social media, eventually developing into a community phenomenon in 2010, primarily on YouTube. The live sound-performances will focus on the auditory and sensory effects of gentle, destructive actions towards the objects that make up the installation.

Sijben Rosa: a new commission
Dutch artist Sijben Rosa is interested in creating objects, exploring how material ambiguity may foster greater social connection. Commencing in January, Rosa will undertake a new community-oriented commission building on a number of recent projects; in particular, Zelf (2017-2018) and Zelf in een doosje (2020-2021). Through this body of work, the artist unfolds a series of sculptural performances in collaboration with elder communities they have come to know or live alongside. Entrusting each with a specially created hand-held sculpture, Rosa is interested in exploring how objects attain meaning in the context of individuals' lived experiences and environments. Regarding each sculpture as inseparable from its respective guardian, social interaction is a prerequisite to experiencing the work; in Zelf, for example, coming into contact with the project entailed ringing the doorbell of each elder. Sijben Rosa's new commission will be presented at the year's end, in December 2023.

Events
A number of public programs are organized in conjunction with these exhibitions and projects. Please visit the Engage section on our website to be kept up to date.

Biographies and Images
A press pack with biographies and images for all participating artists can be downloaded here. For press requests or for further information, please contact Jeroen Lavèn via press [at] kunstinstituutmelly.nl.

About
Kunstinstituut Melly is the new name of the institution formerly known as Witte de With Center for Contemporary Art. Conceived of as an art house in Rotterdam, our mission is to present and discuss the work created by visual artists from here and afar.

Kunstinstituut Melly is supported by the city of Rotterdam and the Ministry of Education, Culture, and Science. Additional support is provided by the Hartwig Art Foundation and Stichting Droom en Daad. The solo exhibition of Jennifer Tee and new commission by Sijben Rosa are supported by Ammodo. Tee's exhibition, co-presented with Vienna Secession, is additionally supported by the Henry Moore Foundation, Mondriaan Fund, and Stichting Jaap Harten Fonds. In 2022, 84 STEPS was supported by Frame Finland, ifa — Institut für Auslandsbeziehungen, Mondriaan Fund, IASPIS, and Goethe Institut Rotterdam. Special thanks to Kadist for Tromarama's installation in 84 STEPS. We thank them!