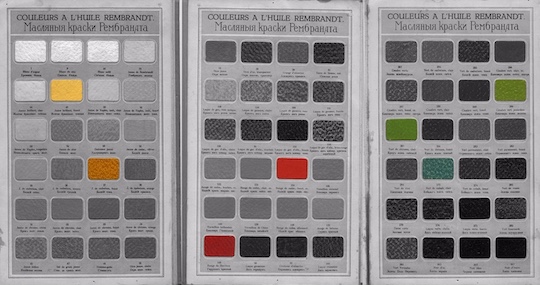 Dear colleague,

We are pleased to invite you to our next Picture Meeting.

The picture meeting intends to bring together professionals and students in the field of conservation of painted art objects, conservation science and art history. Thanks to our loyal partners and enthusiastic colleagues and students, we can once again offer a varied and interesting programme.

The meeting will be held at the headquarters of the Cultural Heritage Agency (RCE), Smallepad 5 in Amersfoort. We hope to welcome you there on Friday, February 1st!

Kind regards,

Klaas Jan van den Berg
conservation scientist Cultural Heritage Agency

Karen te Brake-Baldock
coordinator (inter)national research networks

Registration 


The meeting is free of charge, but you need to register. Please use the button below.



| | |
| --- | --- |
| 09.30 | Registration; coffee and tea |
| 10.00 | Welcome and Introduction - Klaas Jan van den Berg (RCE) |
| | The use of green and blue organic pigments by Talens (1920-1950) - Rika Pause (RCE) |
| | Painting techniques by Jackson Pollock. Technical Research on his paintings in the Stedelijk Museum - Louise Wijnberg |
| | Research into water-miscible oil paints by Talens, Lukas and Winsor&Newton - Alma Jongstra (UA) |
| | Research into the materials of a large painted backdrop dated 1920-30s from the Casino-cinema in Breda - Inez van der Werf (RCE) |
| | New conservation materials in development: Preliminary results of a study into CSGI sticky gels - Sepha Wouda (UA) |
| 12.30 | Lunch |
| 13.30 | Wall paintings in the Netherlands in the 20th Century: painting materials - Rutger Morelissen (RCE) |
| | Talens Eta Paint and a wall painting by Lex Metz - Lisanne van den Heuvel (freelance/CMOP project) |
| | Improved micro-fading device for risk assessment of colour change in Van Gogh's works - Gauthier Patin (UA) |
| 15.00 | Tea/coffee |
| 15.30 | Rembrandt's Pendant Portraits of Marten Soolmans and Oopjen Coppit: Aspects of Research and Conservation - Petria Noble and Susan Smelt (Rijksmuseum) |
| | Paintings on the move. A condition survey in preparation of the move from depot Lelystad to CCNL in Amersfoort - Saskia Smulders (RCE) and Maranthe Lamers (Rijksmuseum) |
| | Technical research on Rogier van der Weyden in the Mauritshuis - Carol Pottasch (Mauritshuis) |
| 17.00 | Drinks and nibbles |