[sent 27 August 2020, updated 19.11.2020]

The Van Abbemuseum is preparing for the opening of a new collection display in the autumn of 2021. With accessibility higher on the agenda than ever, the museum is working hard on this varied and progressive exhibition, featuring key pieces from the museum's internationally respected collection. In the meantime, the museum has a year's worth of exciting projects and exhibitions planned.




On display in the Old Building galleries





Positions #6: Bodywork

28.11.2020 – 25.04.2021
In this sixth and final iteration of the series Positions, five intriguing artists will exhibit new and existing work in the museum's Old Building. From all over the world and deploying varying forms of expression, each of these artists relates to the human body in their own way. Rather than regard the body as a natural entity, they consider it as a result of the culture in which it exists. They tackle questions such as the 'engineerability' of the body, (mis)communication, vulnerability and the effects of technological developments on the individual and on society. From the humorous and hallucinatory to the clinical and revelatory, the work of these artists invites the viewer to broaden their perspective of the human body through new experiences. Navine G. Khan-Dossos (1982, UK), Praneet Soi (1971, India) and Ajla R. Steinvåg (1975, Norway) have previously had smaller displays at the Van Abbemuseum. Laure Prouvost (1978, France) will show new work produced for the exhibition. The work of Zach Blas (1981, US) will be exhibited for the first time in the Netherlands. Sponsored by Stichting Ammodo and the Mondriaan Fonds.



Gülsün Karamustafa & León Ferrari

08.05.2021 – 26.09.2021
Through solo exhibitions by Hito Steyerl, Rasheed Araeen and less recently, Marlene Dumas and Christo, the Van Abbemuseum has earned itself a reputation as a museum that launches internationally recognised artists in the Netherlands. Continuing in this vein, 2021 will see the start of a series of solo exhibitions by renowned international artists who have not had large scale solo exhibitions in the Netherlands. Two solo exhibitions are sometimes displayed in conjunction with one another, as is the case for Gülsün Karamustafa (1946, Istanbul) and León Ferrari (1920-2013, Buenos Aires): Hailing from different corners of the world, their cultural and geo-political histories show surprising parallels. Visitors can explore how these unique artists are responding to the changes and conflicts taking place in their homelands. As well as parallels, there are also differences between the artists. Karamustafa reflects on male-female relations in a changing Turkey, and the loss of Istanbul's multicultural climate; Ferrari responds to the influence of Western, Christian civilization on South America and on dictatorship in Argentina. The exhibition includes never before shown pieces by the artist. Karamustafa will be producing a new artwork especially for this solo exhibition. The exhibition is a joint collaboration between the Museo Nacional Centro de Arte Reina Sofia in Madrid, the Centre Pompidou in Paris (León Ferrari) and Lunds konsthall in Lund (Gülsün Karamustafa).








Exhibitions in the Collection Building





Face to Face with Gustav Klimt

23.01.2020 – 11.04.2021
Having come Face to Face with old masters Rembrandt and Frans Hals, Van Abbemuseum visitors to this third display in the series are confronted with works by the19th and 20th century modern master, Gustav Klimt (1862-1918, Vienna). Contemporary artist and designer, Bas van Beek (1974, Nijmegen) will transform the Van Abbemuseum projects gallery into a complete experience, in which he combines the art of Klimt with furniture and huge tiles of Van Beek's own creation. A highlight of the exhibition is the full-scale copy of Klimt's famous Beethoven Frieze, recently created for the Belvedere museum in Vienna and to be premiered for the first time internationally at Face to Face with Gustav Klimt. Spanning 34 metres, the symbolist artwork from 1902 depicts the suffering of weak humanity and its longing for happiness, captured in Klimt's luxuriant signature style. The more melancholy side to Klimt is expressed in three dark, intense paintings. Photographs of Klimt and his creative environment transport the visitor to early 20th-century Vienna, where lavish ornamentation and symbolism were embraced, and represented an alternative to the sober inclination of the more abstract art movements of the period. Van Beek based his designs on those of artists, architects and designers inspired by Klimt and the notion of the Gesamtkunstwerk. Sponsored by the Stichting Promotors Van Abbemuseum and the Stimuleringsfonds Creatieve Industrie.



Dustin Thierry: Opulence

12.09.2020 - 04.04.2021
From the ground floor, visitors descend to the museum's basement level, where subdued blue lighting and golden curtains form the décor of Dustin Thierry's exhibition, Opulence. It is an ode to the deceased brother of Thierry "and to all those who are not yet able to be true to their sexual identity", says the artist, born in 1985 in Curaçao. Black and white photographs of individual and group portraits provide a window into the European Ballroom scene; a subculture of the LGBTQI+ community in which black queer young people exuberantly celebrate their identity in dance competitions. His photographs are not the only subject of Thierry's keen eye: the artist will also challenge the museum on issues of diversity and representation. A number of prints will be enhanced with a special ink that is only visible under UV light. With this gesture, Thierry makes reference to discrimination and marginalisation, and his mission to "make visible that which is invisible, and to give a voice to that which is often muted". Sponsored by Prins Bernhard Cultuurfonds Noord-Brabant and produced in collaboration with Foam Photography Museum, Amsterdam.



Victor Sonna. 1525

18.07.2020 – 30.05.2021
The museum's 25-metre high tower houses a spectacular scaffolding structure from which hang 152 artworks based on tapestries produced by Victor Sonna. The top two floors feature platforms that visitors can access in order to view the individual artworks up close, as well as offer them a unique viewing angle on the entire installation. Sonna transformed 18th - 20th century gobelins featuring charming scenes into bleached and dark artworks reflecting slavery. These became three series entitled Bleach and Fabric, Sugar and Rubber and Cards - Iene Miene Mutte. "There is always more than one side to a story", says Sonna, who was born in Cameroon and has spent the past twenty or so years living and working in Eindhoven. Alongside the 152 works that can be viewed from two sides, the exhibition includes six films made of footage taken by Sonna during his travels to Ghana and Suriname. The first floor houses his installation Wall of Reconciliation, consisting of 52 works based on silkscreen screens with depictions of slavery.
The exhibiting is part of a nationwide collaboration, Musea Bekennen Kleur, which launched this year and involves Dutch museums exploring issues around inclusion and diversity. The initiative is accompanied by a comprehensive schools programme and unique exploratory activities. Sponsored by the Mondriaan Fonds.







From September 2021: New collection display


Since its inception 84 years ago, the Van Abbemuseum has had a tradition of innovation, pioneering and facilitating research. This spirit is driving the preparation of the new collection display, which will take shape throughout 2021 in the museum's Collection Building. Key works from an international collection of modern Western art will be presented in a global perspective across three floors. Chosen for display will be pieces from the collection that have received less attention over the years, as well as recent acquisitions that uniquely represent the times we live in. 'Micro' histories - both regional and international - will be a focal point, told by a broad range of figures. These stories that generate unexpected combinations of artworks, offer an insight into the motivations of their creators, and offer surprising perspectives on the future.
Partly thanks to generous support from the Bankgiro Loterij, the museum has been experimenting on increasing accessibility for those with disabilities; for example, through the use of tactile replicas and olfactory interpretations that bring renowned works of art to life for the blind and partially-sighted. In the new collection display, these experiments will be expanded further for all audience groups, introducing an additional dimension for anyone visiting the exhibition. Sponsored by the BankGiro Loterij and Our Many Europes scheme by museums confederation, L'Internationale.




At the Eye, the museum's open-air gallery





De Onkruidenier. Forever Summer

14.11.2020 – 11.04.2021
Under the name de Onkruidenier, Dutch duo, Jonmar van Vlijmen (1980, NL) and Ronald Boer (1981, NL) explore the relationship between man and nature in a quasi-scientific and artistic way. In Forever Summer, the project set to feature this coming winter and spring, the tomato plays the lead role. The project commenced earlier this year when little tomato plants were distributed to around 50 amateur and professional growers in Eindhoven. Since then, tomato plants of all kinds of colours and shapes have been growing in gardens, allotments and on balconies throughout the city. In the meantime, with the help of experts, de Onkruidenier has been conducting research into the relationship between the museum climate and the best climate for growing tomatoes and storing the plant's seeds. In addition, experiments are underway on creating printing ink using pigments from tomatoes. All aspects of the research will be shared in an inviting display in the form of an installation, screenprints and stories from those who participated at the museum's open-air gallery, the Eye, and on the adjoining wall. Sponsored by the Mondriaan Fonds.



Eimear Walshe

24.04.2021 – 19.09.2021
A large-scale sculpture of a bird will be installed on the floor of the Eye (the museum's open-air gallery). Visitors will be able to walk around and on the sculpture. The sculpture is Eimear Walshe's interpretation of a cuckoo: the bird that lays its eggs in the nests of other bird species and leaves others to raise her young. In the English language, the abbreviation 'cuck' takes on a negative meaning for men who look after another person's children. The term is also used by the American alt-right movement to describe immigrants, the LGBTI community, feminists, socialists and anti-racists. In this project, Walshe (1992, Ireland) re-appropriates the term 'cuck' and stresses the need to oppose political divisions. Together with performance artist, Maïa Nunes, they will post online on themes they believe to be neglected in standard sex education, such as pleasure, power and rejection. As part of this, they will work with the Van Abbemuseum Choir, students from the Design Academy Eindhoven and the queer constituency active within the museum. This project is an extension of a project Walshe set up in 2018 in collaboration with the Van Abbemuseum and the Design Academy Eindhoven called The Department of Sexual Revolution Studies.




Programming during Dutch Design Week



Geo-Design: Sand 17.10.2020 – 15.11.2020
After water, sand is the most used natural resource on earth. It's everywhere: from the buildings we live in and the glasses we wear, to the silicon chips in our computers and smartphones. And sand is becoming scarce. Which can lead to smuggling and even war. Furthermore, sand mining is a major disruptor of ecosystems. The Van Abbemuseum and Design Academy Eindhoven will be working together once again for this year's Dutch Design Week on a display entitled Geo-Design. Initiated in 2018, this series sees ex-students of the Design Academy Eindhoven take an innovative approach to examining the socio-economical, geographical and geo-political forces at play in the work of contemporary designers. Following Geo-Design: Alibaba and Geo-Design: Junk, the name of the third exhibition in the series is Geo-Design: Sand. Through a wide variety of media and techniques, participants in Geo-Design: Sand address a broad range of aspects and current issues related to the material, sand.



New Melancholy

17.10.2020 – 03.01.2020
During Dutch Design Week, the Van Abbemuseum and Home of Design Kazerne will simultaneously open an exhibition of art and design entitled New Melancholy. Plans were in place for a collaboration between the Kazerne Foundation, Van Abbemuseum and Lidewij Edelkoort (former director of Design Academy Eindhoven and internationally renowned trend forecaster), but the outbreak of COVID-19 meant that the exhibition would take on a unique character. When curating her collection of innovative contemporary design, a major consideration for Edelkoort was the essential contribution that design makes towards achieving a happy life. For some considerable time, the Van Abbemuseum's collection has been shaped by diversity and reflection on the world of today; whereby there is no longer any single dominant culture or artistic tradition, but instead centres art that has the potential to surprise the onlooker or encourage new insights. Now, parts of both collections will come together at both locations. The pieces chosen will be accessible, carrying a sense of melancholy and in-keeping with the current themes of maintaining distance and reflection. But New Melancholy is also intended to offer new ways of engaging with design, art and even the pandemic.



The very last Library Exhibition





Bartleby & Co.

08.09.2020 – 08.01.2021
The final exhibition to take place in the Van Abbemuseum library is dedicated to Bartleby & Co., an artist's project by Thorsten Baensch (1967, Germany) founded in 1995. The publications and projects of Bartleby & Co. are created with the utmost care, beauty, originality, spirit, love and respect. Bartleby & Co. works with artists, artisans, authors, poets, scientists, thinkers, translators and other experts. Intensive collaboration produces projects of the highest quality. Bartleby & Co. describes its editions as "playful and serious; complex and simple; poetic and cryptic; sociable and hermetic; often multi-lingual and mostly a combination of innovative materials and mixed print and binding techniques".
The name Bartleby is derived from a 19th century novel by the American writer, Herman Melville. In the book, office clerk Bartleby who, after getting though a high volume of work, then refuses to make copies or perform any other tasks by saying "I'd rather not". The Thorsten Baensch editions are an homage to the deeply rooted human need for free will. They also represent a statement by the artist on the absurdity of our existence.




Beyond the museum walls





Display at Van der Valk Hotel Eindhoven

Ongoing
April of 2018 marked the start of a unique collaborative project between the Van der Valk Hotel in Eindhoven, the Van Abbemuseum and the designer, Piet Hein Eek. In a special display cabinet designed by Eek, a mechanical artwork from the museum collection was exhibited inside a glass trolley. Since then, the exhibits on display in the cabinet, situated in the centre of the hotel's lobby, have been rotated regularly. Each time, an eminent individual from the city or region of Eindhoven selects a piece from the museum's collection. Currently on display is the personal choice of cabaret artist and entertainer, Rob Scheepers. Scheepers has brought together five pieces he feels reflect the relationship that exists between him and his audience when he is performing, among which a balancing figure by Juan Muñoz. Next year the honour of guest curator goes to Dutch Design Foundation Director, Martijn Paulen, food designer Annelies Hermsen and artist, Jalila Essaïdi.


Supported by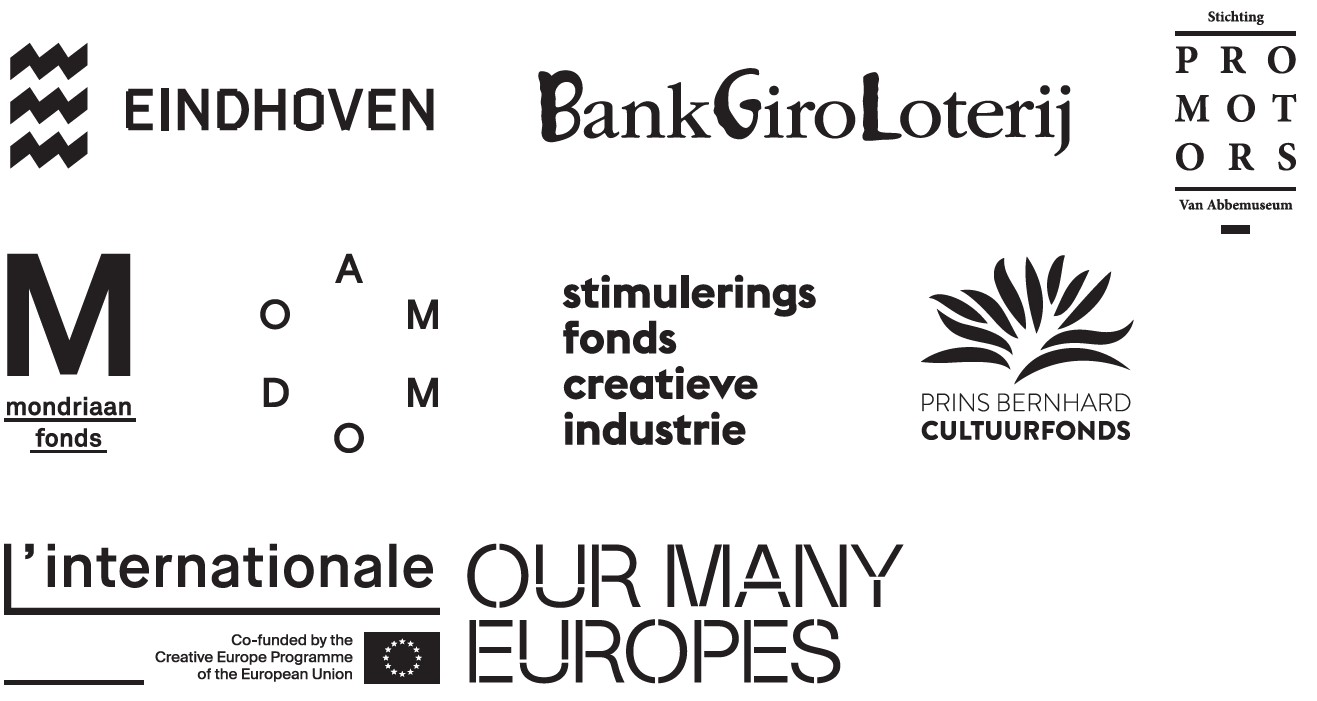 NOTE FOR EDITORS

For enquiries and images:
Neeltje van Gool, Press Office
M: +31 (0)6 1299 5794
E: pressoffice@vanabbemuseum.nl

Images (top to bottom, left to right)
Photo: Boudewijn Bollmann | Zach Blass, The Doors, 2019, installation view, Edith-Russ-Haus für Medienkunst, Oldenburg, Germany. Courtesy of the Artist and Edith-Russ-Haus für Medienkunst | Laure Prouvost, Dit learn, 2017, still, collection Van Abbemuseum Eindhoven | Gülsün Karamustafa, Promised Paintings (Angel 2) 1998, collection Van Abbemuseum, Eindhoven. Foto Peter Cox | Gustav Klimt, Beethoven frieze, narrow wall (The Hostile Forces), Secession, Photo: Jorit Aust | Victor Sonna, 1525, 2020, exhibition Van Abbemuseum Eindhoven. Photo: Ronald Smits

Visiting address
Bilderdijklaan 10
Eindhoven, The Netherlands
vanabbemuseum.nl/en

Opening hours
Tuesday to Sunday 11am - 5pm.
The museum is closed on New Year's Day, King's Day and Christmas Day.

Admission
€13 Adults
€ 6 Students, CJP card holders
Free Children aged up to 12, holders of a Museumkaart,
BankGiro Loterij VIP card & every Tuesday afternoon after 3pm.

Book tickets online
vanabbemuseum.nl/tickets

Gegevens wijzigen of afmelden
Het Van Abbemuseum wordt onder andere ondersteund door / is supported by: