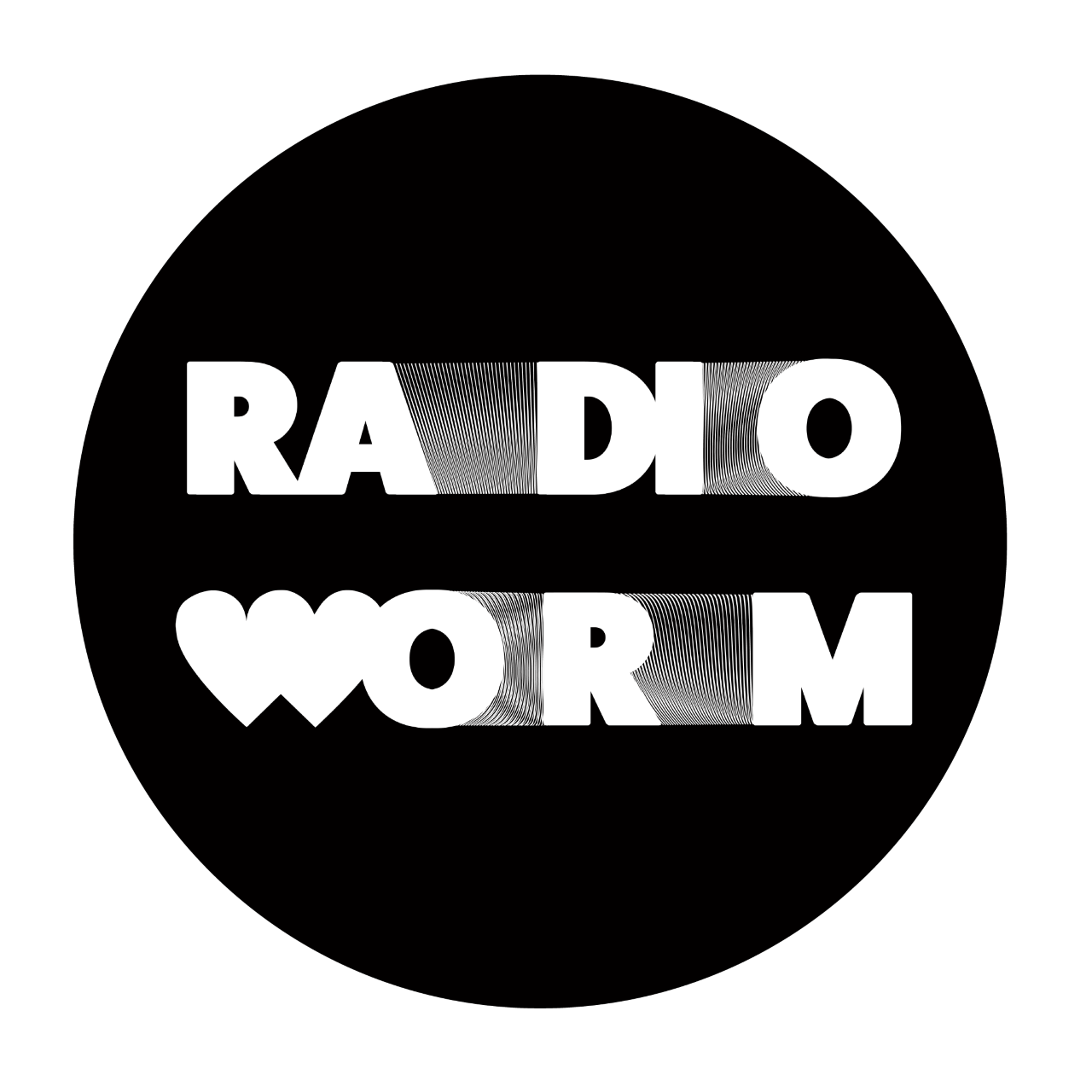 WEDNESDAYS AT RADIO WORM
Sandra Golubjevaite and Antrianna Moutoula
two biweekly shows
@ radio WORM

[ATXT]
17 NOV and every other Wednesday at 12.00 CET
Hosted by Sandra Golubjevaite
A poetry radio show during which personal data is collaged live into polyphonic textual scapes to activate the perfume of day dreaming.

A continuous present you know it no is a continuous present
23 NOV and every other Wednesday at 12.00 CET.
With Antrianna Moutoula
Solo, live, nonstop languaging (tracing my thoughts through language) as autotheory, craving to renegotiate the confinements, norms and protocols of knowledge production within artistic academic discourse.

Listen here.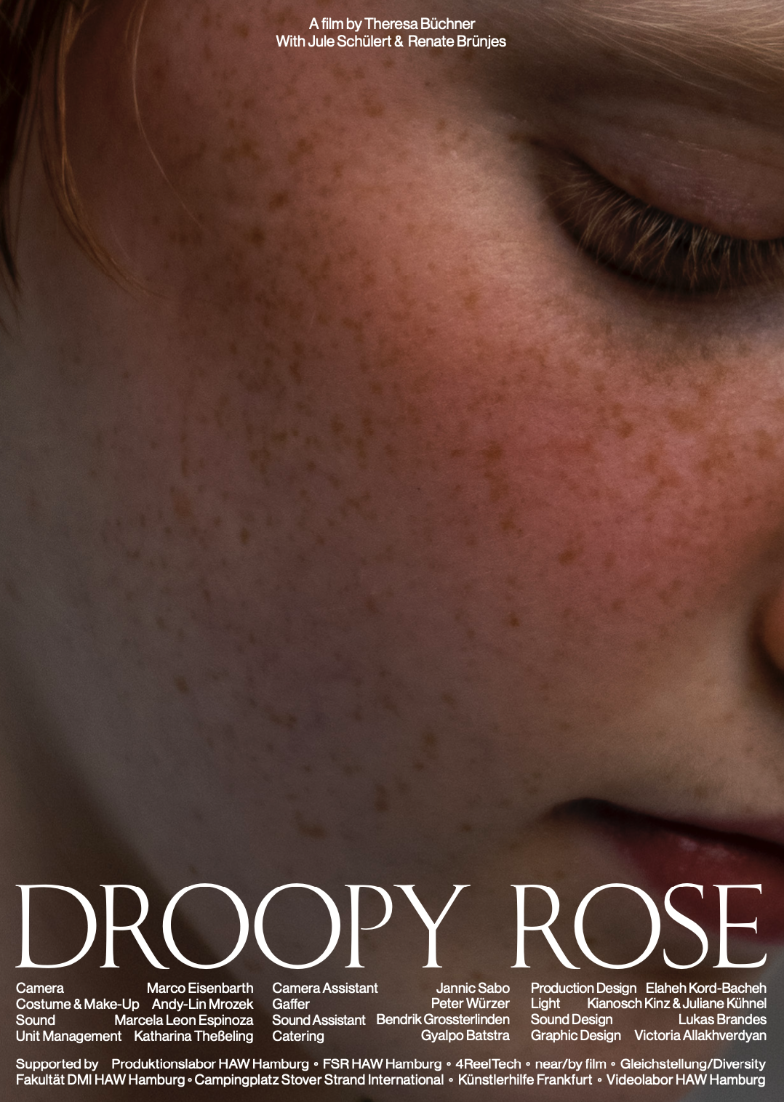 DROOPY ROSE
@ BALi Kinos, KulturBahnhof Kassel
Starts at 20:00

World Premiere of a film by Theresa Büchner, as part of the Kasseler Dokfest.

A child is left alone at home. The rules and codes of the adults seem ubiquitous: "No TV before eleven in the morning" – but nobody is around to check on the child's behaviour. While watching TV the child starts to relate to scripted reality show actor Daniela. Her subversive actions enable the child to search for a way out.

Watch the trailer here.

More info here.
FELLOWS EXHIBIT
Exhibition
@ Gerrit Rietveld Academie, Room FL101, Fedlev Building, Amsterdam
From 12.00 to 17.00 (Monday-Saturday)

A Rietveld/Sandberg initiative to showcase the research results of the 16 research fellows that did a fellowships trajectory in 20/21.

With Amy Suo Wu, Nicola Baratto and Yiannis Mouravas, Marjan van Aubel, Derrais Carter, Quinsy Gario, Jeroen Kramer, Nina Glockner, David Bennewith, Noha Ramadan and Swani Vinton, Mo Veld and Mika Perlmutter, Oskar Johanson, Marie Ilse Bourlanges and Elena Khurtova.

More info here.
Or check sandberg.nl/research-fellows-about & laps-rietveld.nl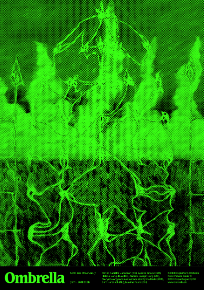 ACT II: THE OBSERVATORY
Group show
@ Ombrella, Copenhagen, Denmark

With a.o. Maxime Favre, Dionysios Argyropoulos Ioannou (@dynnodada)

Artists that in one way or another act as magnifying glasses within their own range, they peek from both directions: magnifying and reducing depending on the position we choose to partake in. It seems there is a special engagement with the realm questioning fact vs. fiction.

You are invited to cuddle tiny organisms, skydive from roofs of loud buildings, fieldtrip into vast corporate forest plantations and harness seedlings in grandmother's backyard.

More info here.
SYNCHRONISED SWIMMING
@ The Pool Jewelry, Amsterdam

With a.o. Marguerite Bones

Jewellery is a blend of crafts and instincts. Jewellers swim in intricate patterns of material combinations and techniques. Each has its own identity, its own world; But, once in the Pool the strengths merge together and the choreography begins…

Opening hours: Wednesday to Saturday 12:00-18:00

More info here.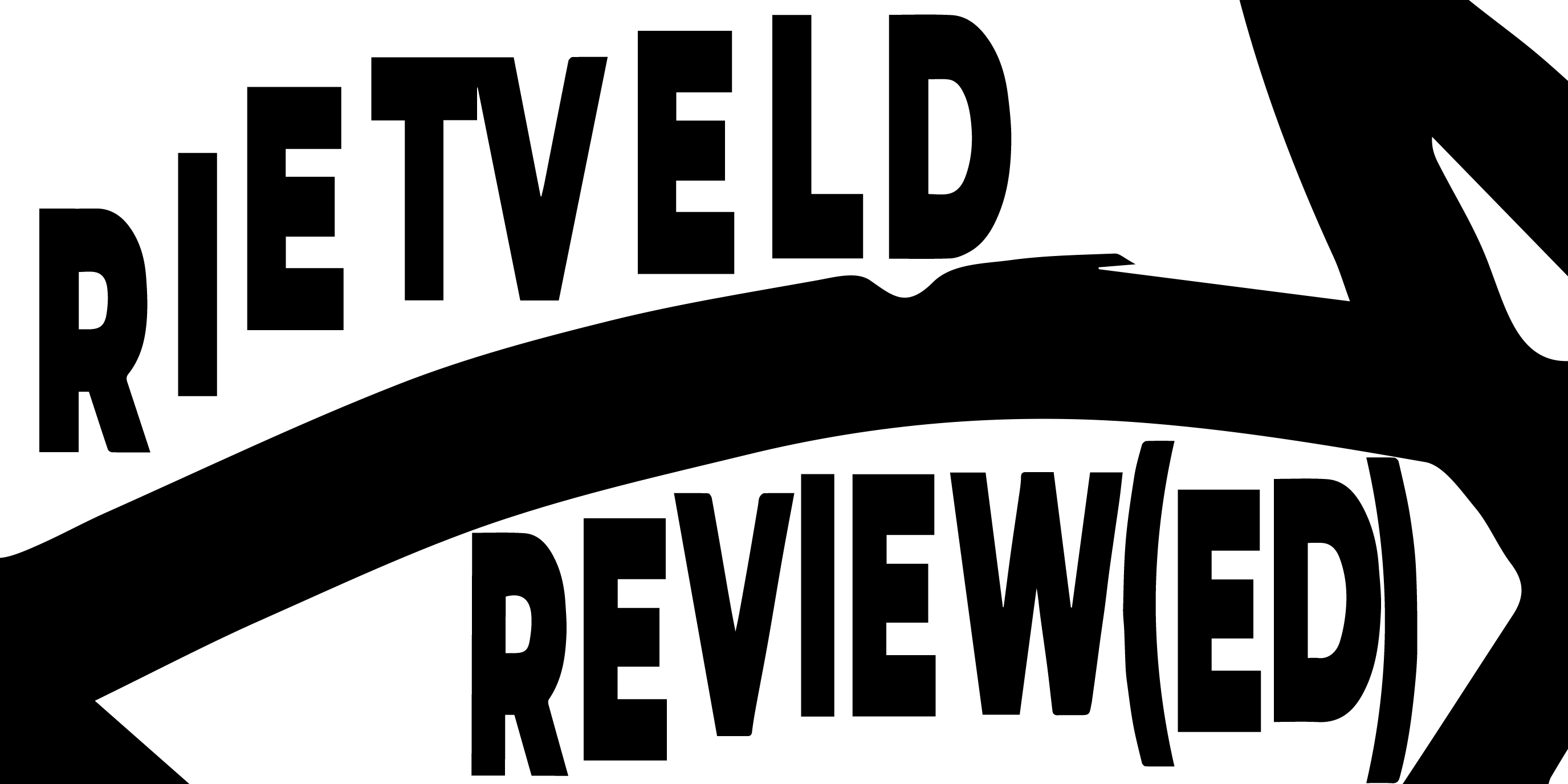 RIETVELD REVIEW(ED): VIDEO PORTRAITS
Video portraits of Mathild Clerc-Verhoeven, Novi Erytryasilani, Roxane Mbanga, Mica Pan, Anna Plowden, Shifra Osorio Whewell, Eva van der Zand, Karly Gerharts and Jun Ortega

An independent, external committee was asked to reflect on the Graduation Show 2021 as a whole and to signal current tendencies and themes. The committee was also asked to select a number of projects by graduating students that support these observations.

Luuk Heezen and Rik Lauwen created video portraits of all selected projects.

All portraits will be launched on 24 NOV 2021, on our website and on Vimeo, together with the reflection report and a podcast.

More info here.
Design by Vinícius Cardoso Witte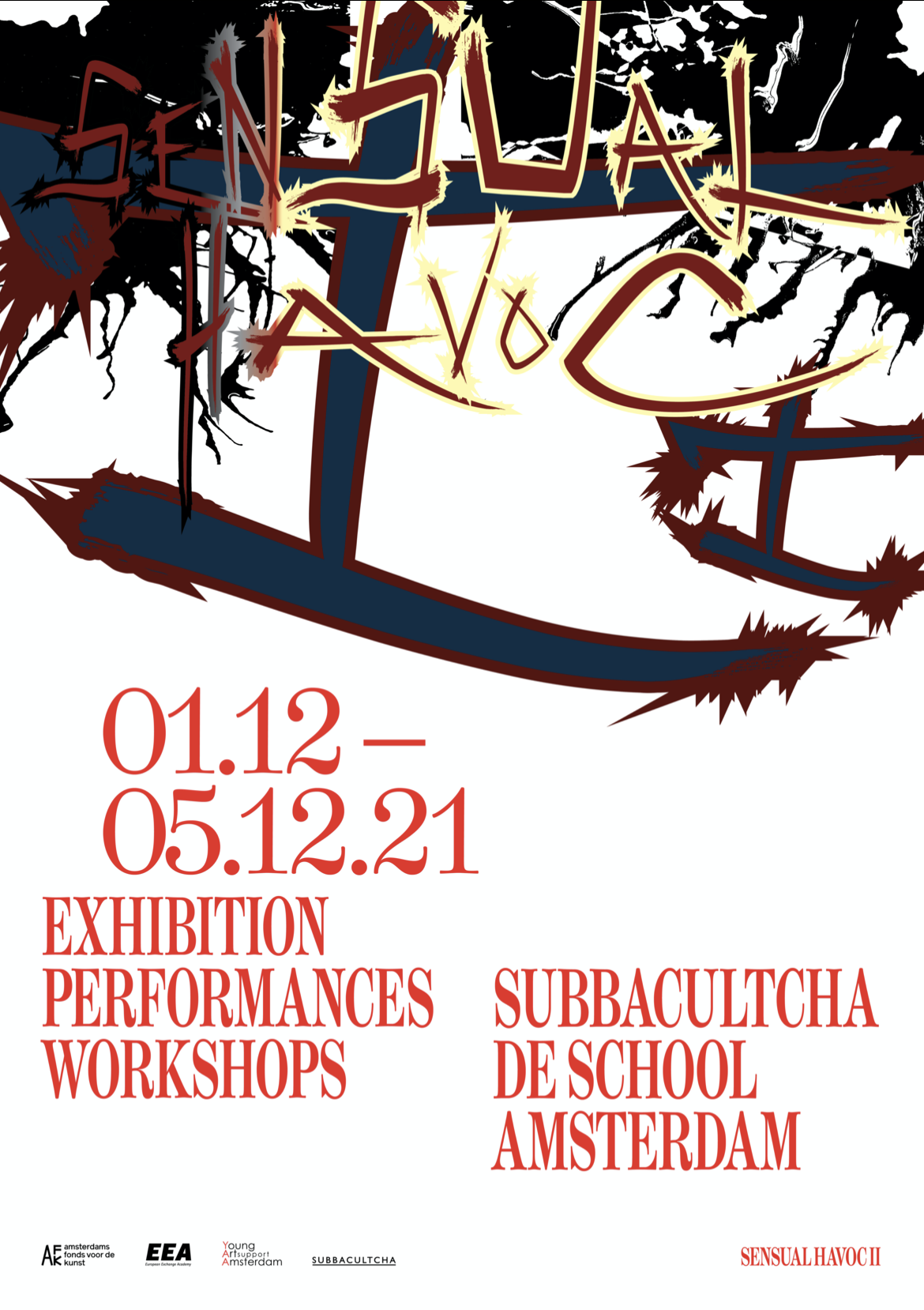 SENSUAL HAVOC II
Exhibition
@ Subbacultcha, s105 De School, Amsterdam
Organised by Nadja Henß and Naama Freedman

With a.o. Meis Vranken with band, Ela Szota, Paula Garcia Sans, Martina Gudmundson, Bernardo Zanotta and Hans Muller

Sensual Havoc ll is an exhibition around the topics of sex(uality), longings and desire. Alongside the group show there is a performance evening, an erotic writing workshop and the dough-making 'Chimera Gastronomy' workshop.

There will be a sound installation with erotic recordings by different artists from all over the world. And on Saturday the 4th of December, the sex- positive 'Tailbone' shop will pay a visit.
AN ANIMAL THAT SPEAKS
Solo-exhibition by Robin Waart
@ ARTisBOOK, Groningen

The exhibition is Waart's fifth book and continues his contribution to Artispage earlier this year, starting from what it means to take things, objects, ideas seriously literally – as a process, and its outcome: a literary animal, a book that lasts five weeks and has its own isbn.

More info here.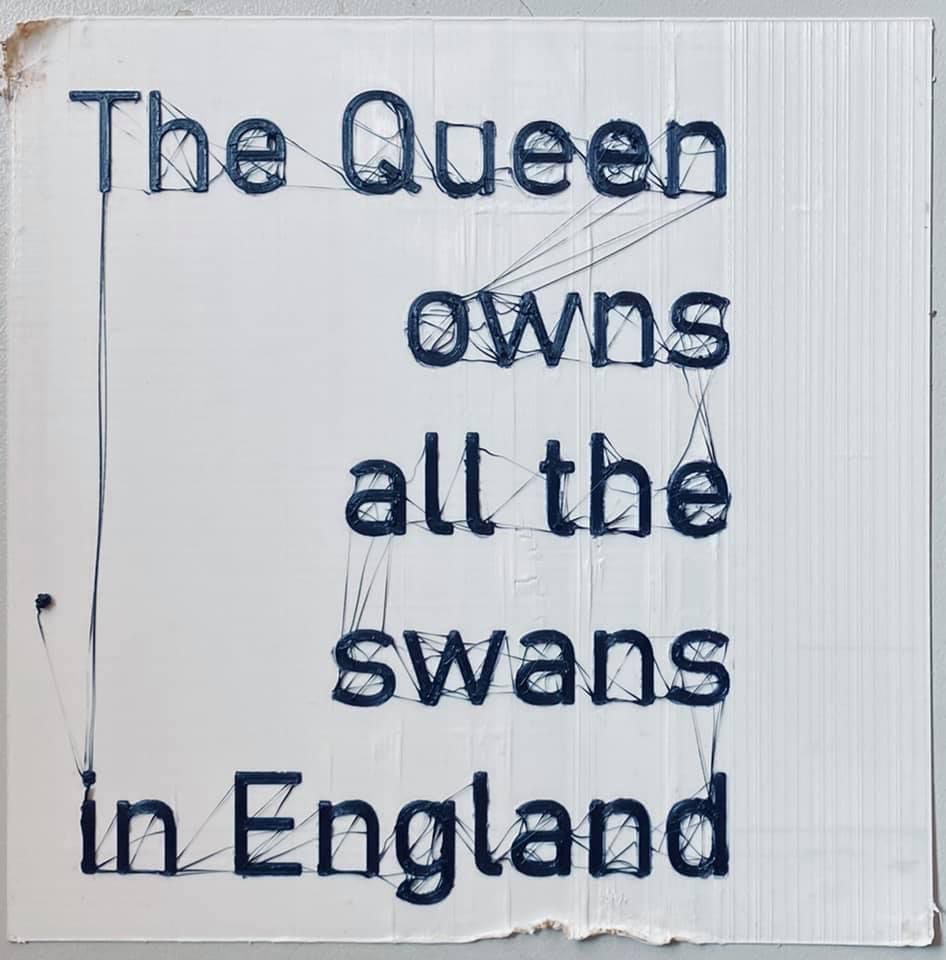 THE QUEEN OWNS ALL THE SWANS IN ENGLAND
Solo-exhibition by Twan Janssen
@ PS Projectspace, Amsterdam

The first presentation of new works, all printed in plastic, created in 2021. An ad hoc collection of factoids from the Net, logos, papers, messes, song lyrics. Crumpled paper, tape, wallpaper samples. Modernism and its heroes, with a guest role without text for painting.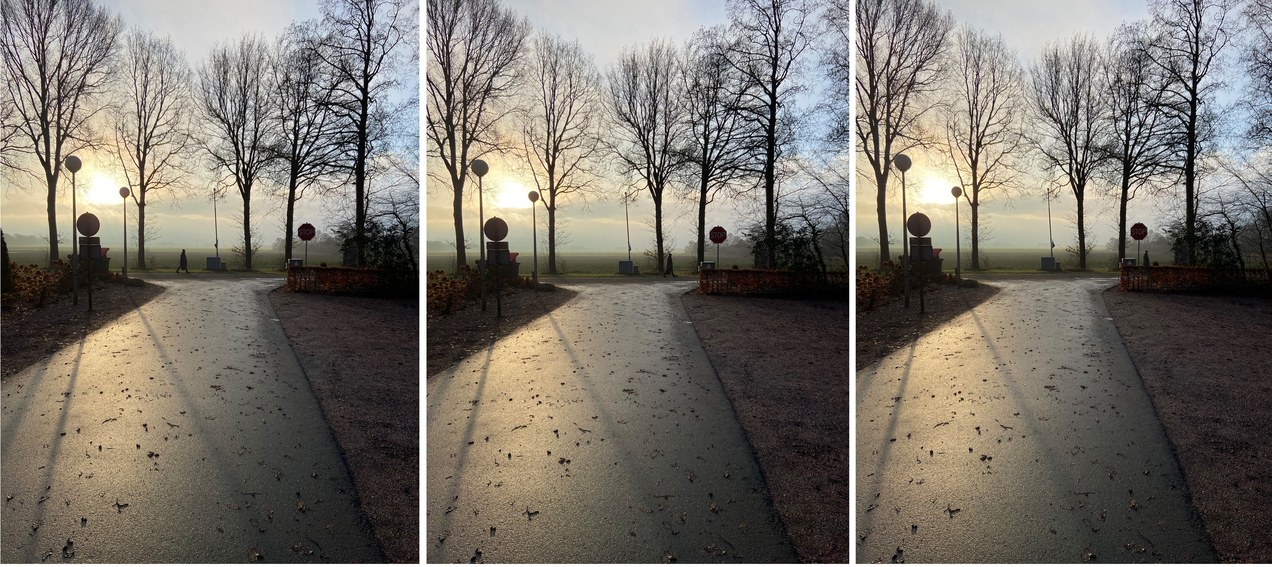 DE VIER SEIZOENEN
Artist in residence Villa Belmonte
@ Arti et Amicitiae, Amsterdam

With a.o. Margreet Kramer

With 'De Vier Seizoenen', the Weduwen en Wezenfonds presents the artworks made by Arti members in Villa Belmonte, an artist residency in the middle of Drenthe, where member artists can stay and – inspired by nature and the seasons – work on their oeuvre.

More info here.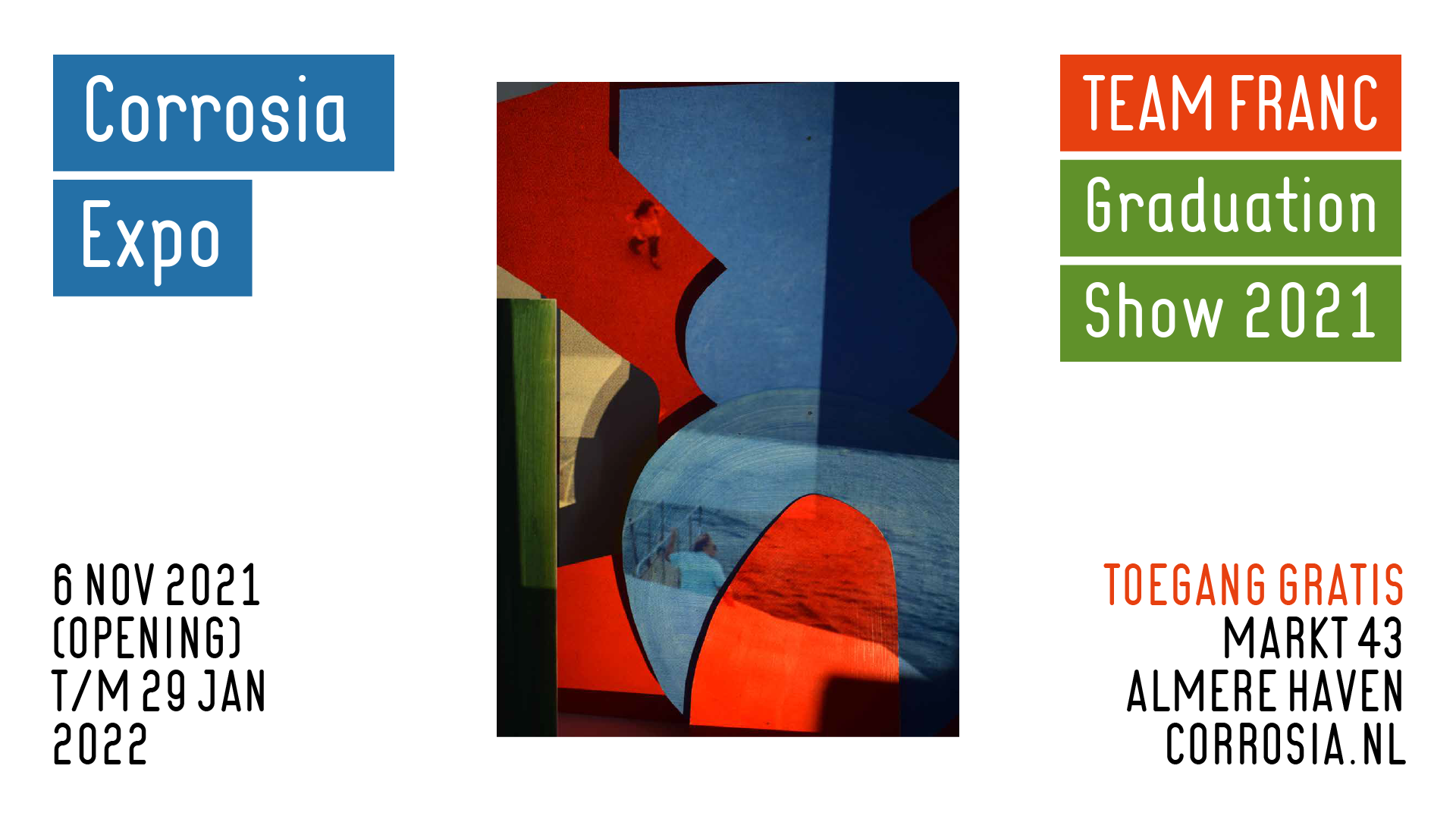 TEAM FRANC – GRADUATION SHOW 2021
@ Corrosia, Markt 43, Almere Haven

This year, the last edition of TEAM FRANC, three Almere residents - Nova Eeman, Kees Tak and Paul Brouns - chose the artworks of two graduates from the Rietveld 2020: Hagar Schuringa and Qiran Xu.

Their mission: select your favorite work for a graduation show in Corrosia Expo.

More info here.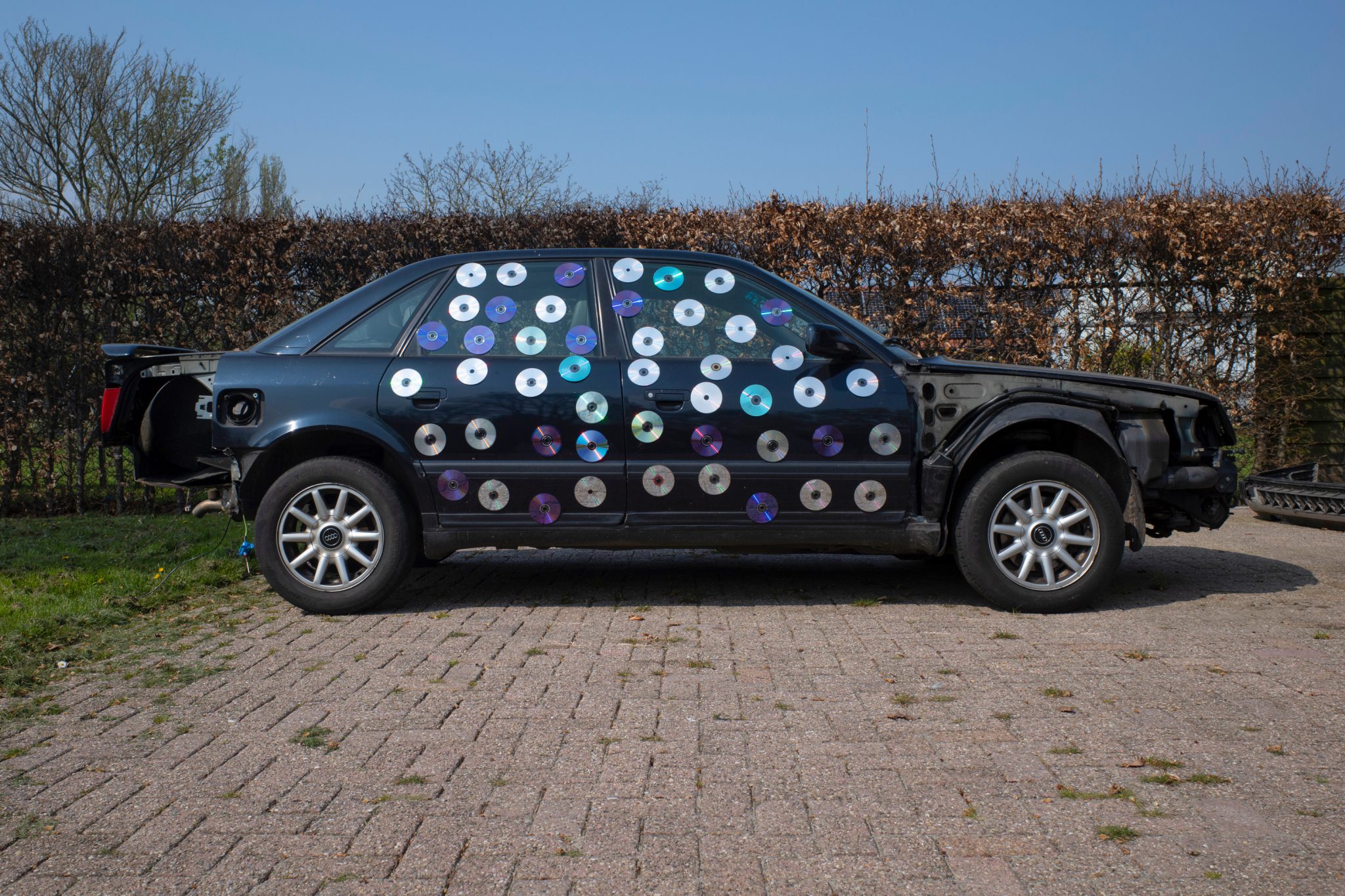 STEENBERGEN STIPENDIUM 2021
Exhibition
@ Nederlands Fotomuseum, Rotterdam
The award for the best graduation works from photography departments in the Netherlands.

With a.o. Laura Bouman
(Photo: Rust Roest)

WORKSHOP EMPLOYEE
for The Large Glass department
16-20 hours a week (0,4 - 0,5 fte)

Closing date of this call 21 NOV 2021

More info here.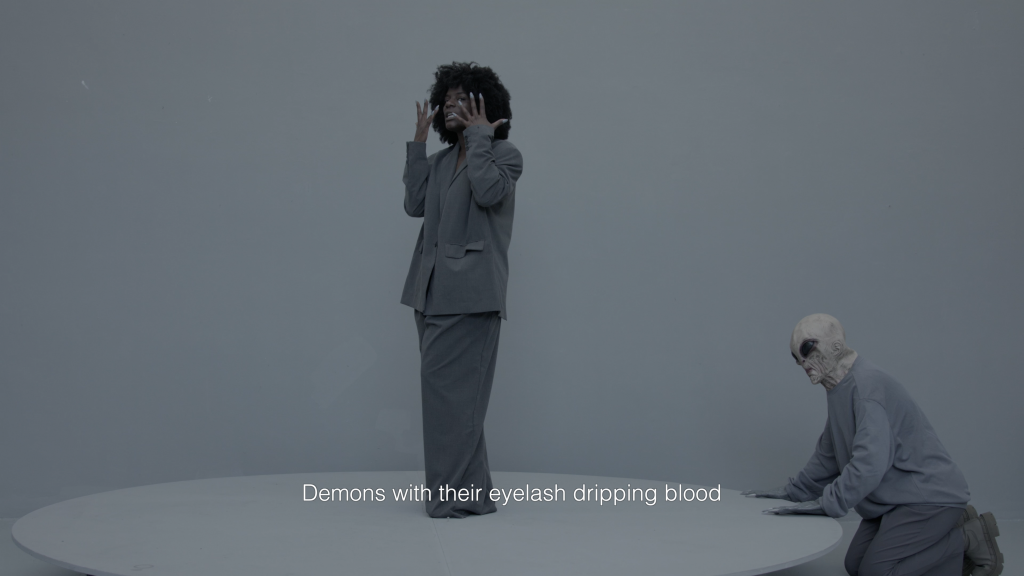 PRIX DE ROME 2021
Exhibition
@ Stedelijk Museum Amsterdam

The international jury of the Prix de Rome has selected four artists for the shortlist of the Prix de Rome Visual Arts 2021.

a.o. Silvia Martes
The jury is enthusiastic about Martes' combination of a powerful visual language and original form of storytelling. Her films bring together a stylised type of futuristic realism with a strong painterly quality that provides a welcome addition to the current artistic landscape of art and film.

More info here.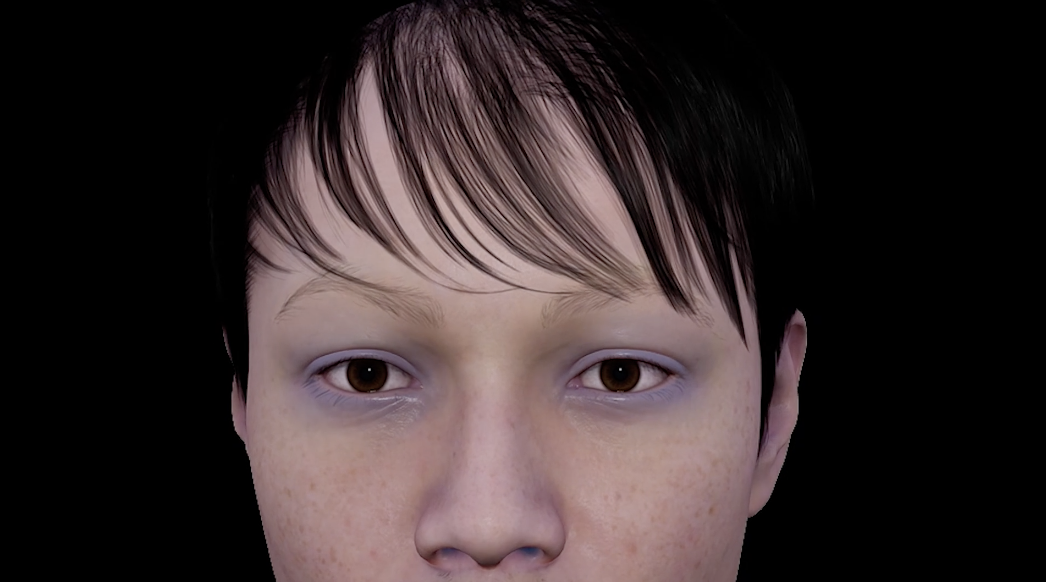 THE CONCRETE ROAD
by Wenrui Zhao

A three-channel installation work which was exhibited during the Graduation Show 2021.
Watch the new RietveldTV here.

Upcoming RietveldTV
27 & 28 NOV @AT5 - 22:40 by Joana Velu.

THE LIBRARY OF INEXTRICABLE BOOKS
Report of Esther de Vries'
conversations with a.o. Julia Born
Published on the occasion of a traveling exhibition about The Palace of Typographic Masonry in Turin, Italy this spring and is now for sale at San Seriffe, Stedelijk Museum Amsterdam, Pro QM Berlin and MZIN visual culture, printed matters in Leipzig.

From 20 October, the specific drawer from 'An Alphabet of Cases' that embodies this Library of Inextricable Books is on display at the Palace's Representative Office (Eef Kamerbeekstraat 1020, Amsterdam). Open by appointment: info@palaceoftypographicmasonry.nl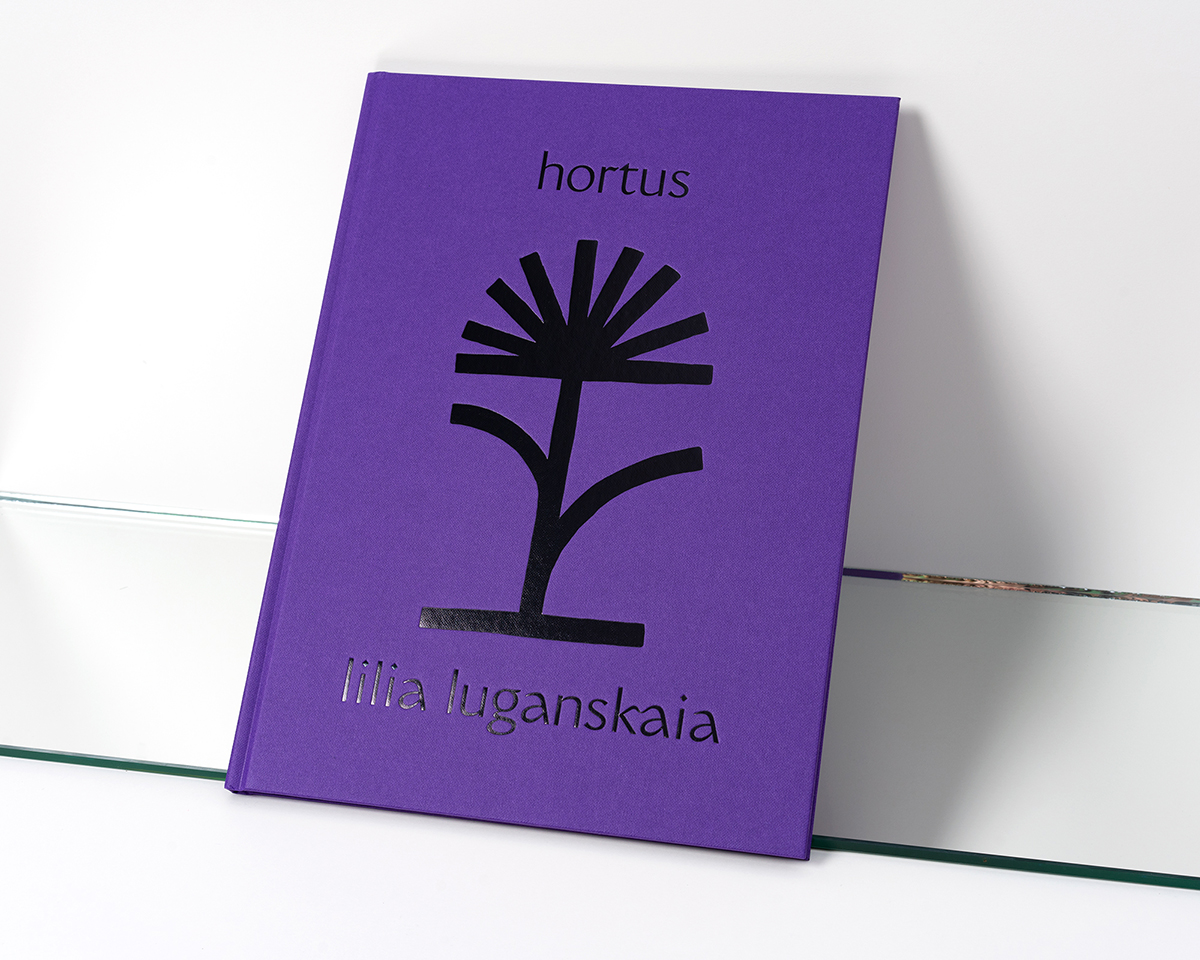 HORTUS
A new book by Lilia Luganskaia

Taking inspiration from the world of 19th Century sentimental flower books, Hortus presents itself as a set of notes towards a modern handbook for contemporary floriography, considering what the discipline might look like today. By collecting common flora across one year in the urban gardens around her home in Amsterdam and cross-referencing their meanings with publications from the past, Luganskaia reflects on their natures, their roles, and the symbolic familiarity they might hold for the communities living with them.

A female artist and reader of the twenty-first century, she seeks out the essence of modern life through her lens, and through flowers, just like the women who came before her.

More info here.
S+T+ARTS Regional Centres | Repairing the Present Open Call
Deadline: 21 November 2021, 13:00 CET

Calling international artists working at the intersection between science, technology and the arts to apply for a 6-month fellowships dressing one of the 21 challenges defined by 12 Regional STARTS Centers and their local networks of experts, business and community leaders.

More info here.

------------------------
Call for participation of artists Christmas Sale 2021 at WG Kunst
Deadline: 21 November 2021, 13:00 CET

WG Kunst is holding the CHRISTMAS SALE for the 13th time from 10 to 19 December 2021. This is an accessible sales exhibition, in which several hundred works of art are offered by more than 100 artists for exactly € 100 each.

More info here.

------------------------
Rijksakademie Tech Fellowship
Open Call
Deadline: 1 December 2021, 23:59 CET

A research residency for young and mid-career artists/makers to further develop their skills in craft, materials and technology.


More info here.

------------------------
Jan van Eyck 2022-2023
Deadline: 1 December 2021, 23:59 CET

As a multi-disciplinary post-academic institute, the Jan van Eyck Academie (Maastricht, NL) is committed to exploring the agency, roles, and civic significance of art, design and other creative practices in relation to the climate crisis, environmental breakdown, and their manifold effects.

More info here.

------------------------
De Belofte
Deadline: 31 December 2021, 23:59 CET

De Belofte is a project of Kunstliefde - space for visual arts in Utrecht, for recently graduated artists. The programme starts a few months after graduation, at the beginning of the new year, and ends with a group exhibition in May/June.

More info here.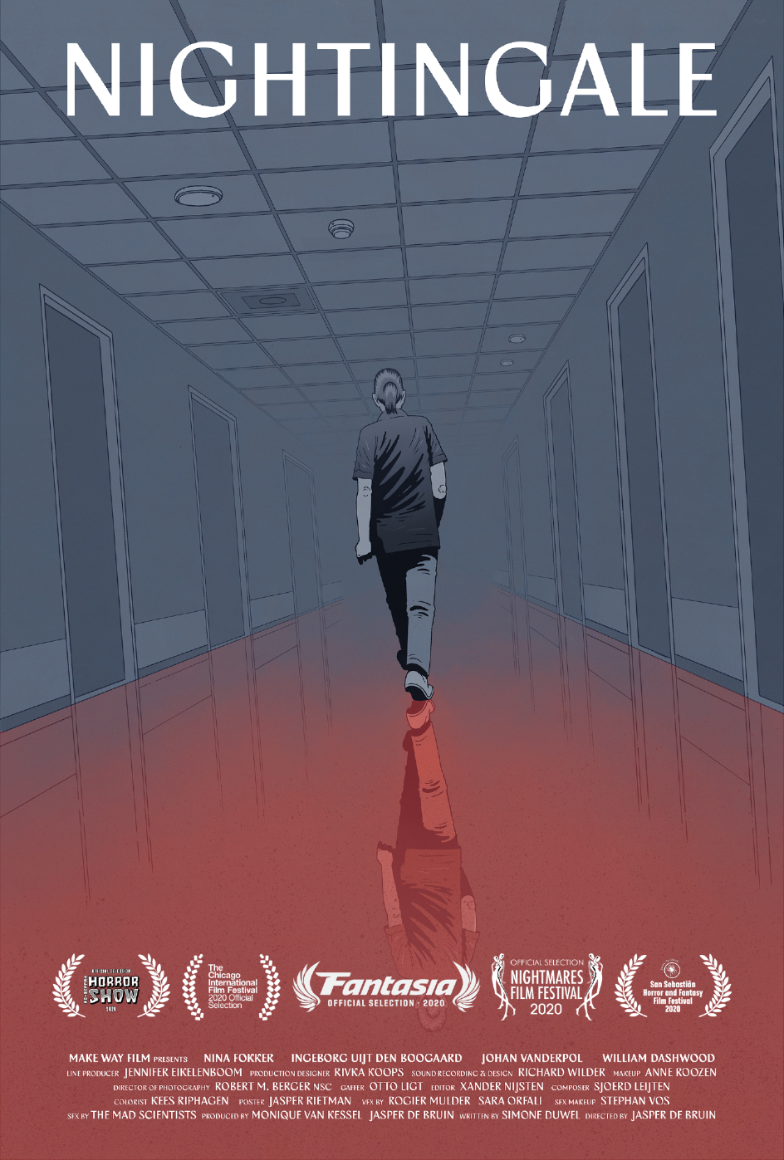 NIGHTINGALE
Film by Jasper de Bruin

A heavily overworked nurse is being stalked by a mysterious figure during her night shift in the nursing home. While trying to tend to everyone's needs, she also has to deal with her stalker and pushes herself to extremes.

Watch the film here.