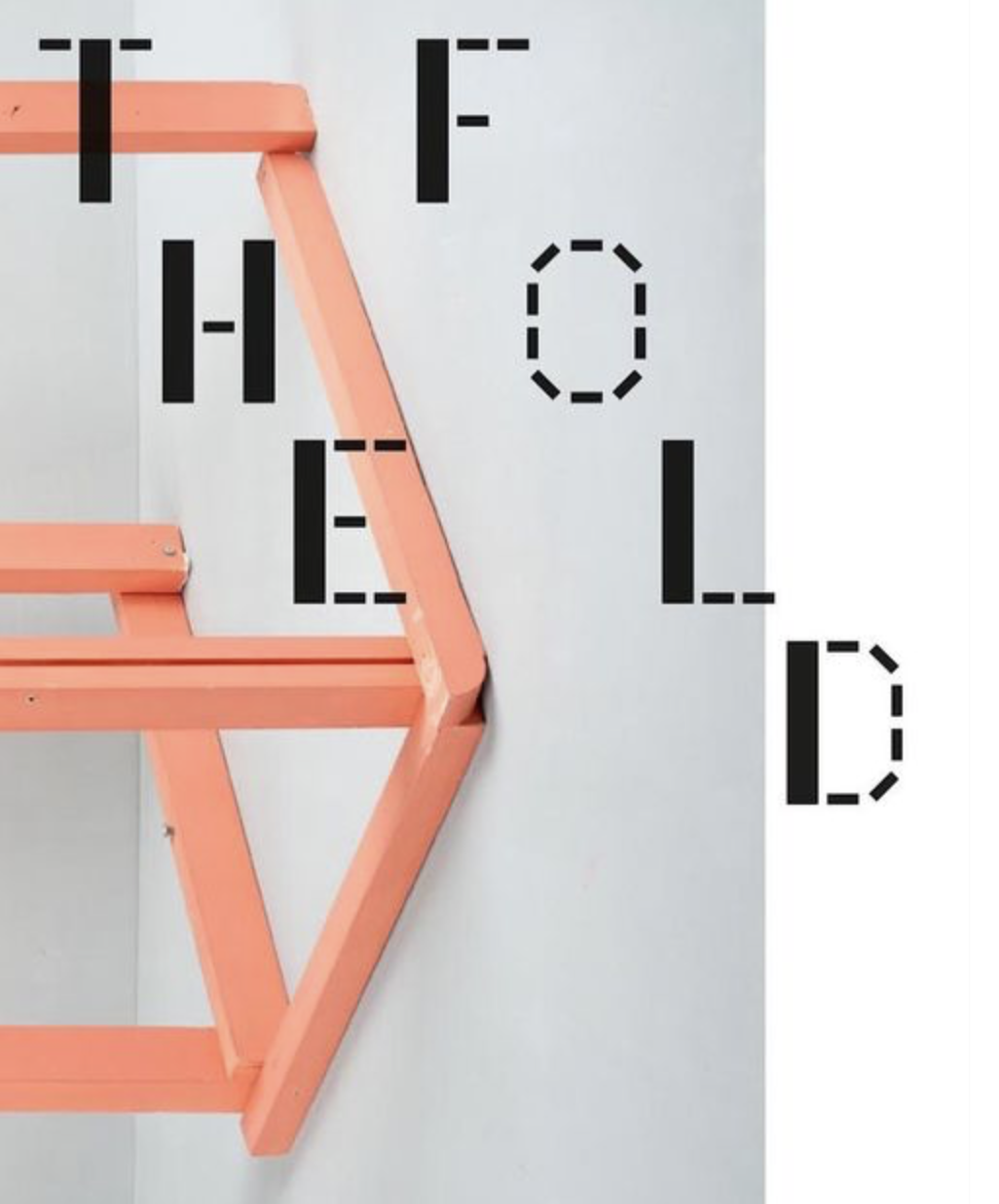 THE FOLD: LAUNCH
A publication by Fleur van Dodewaard
@ San Serriffe, Amsterdam

THE FOLD comprises ten years of Fleur van Dodewaard's practice reshaped according to the principles of book production methods: folding, cutting, and binding. Operating as a making-of, the publication displays its structural mechanisms, revealing its artistic premises and systems of construction.

Opening
14 April 20.00 - 22.00

14 - 17 April
Visit the display of the publication's printing sheets.

more info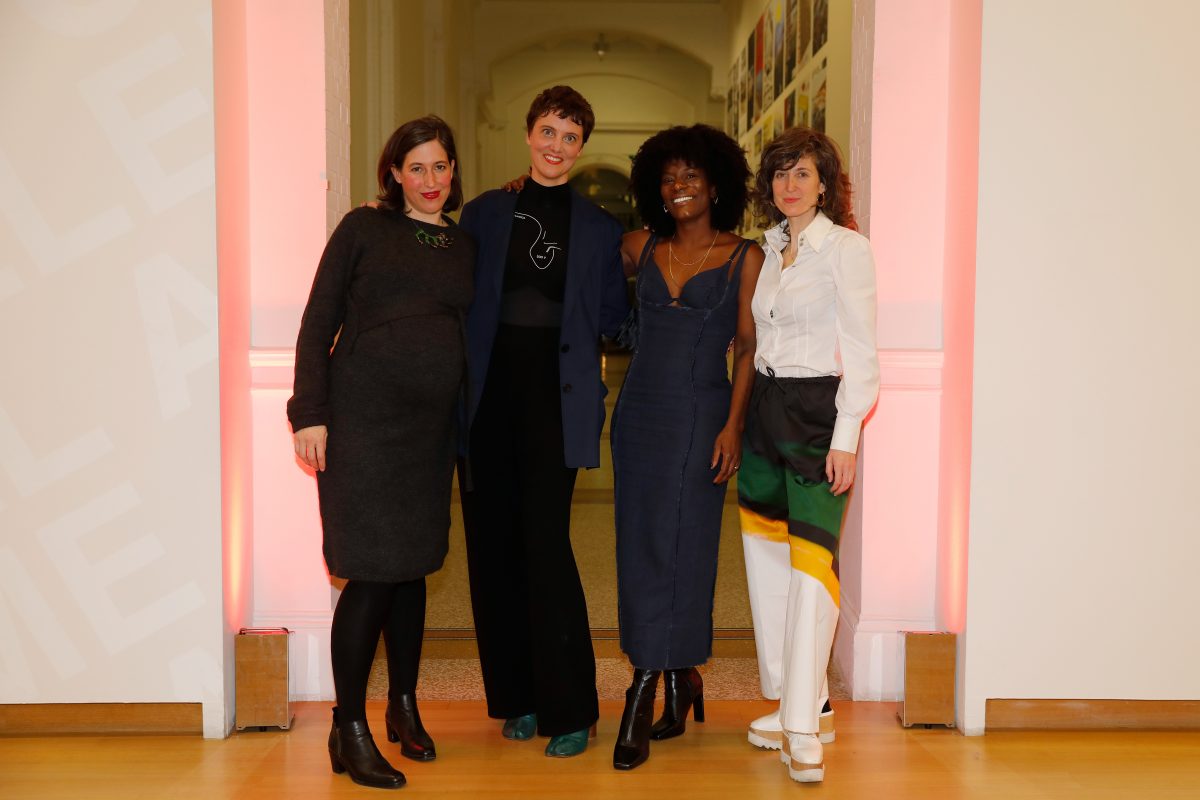 GALLERY TALKS
PRIX DE ROME
@ Stedelijk Museum, Amsterdam

15.00 - 16.00 Mercedes Azpilicueta & Alexis Blake
Buy tickets here.
16.00 - 17.00 Silvia Martes & Coralie Vogelaar
Buy tickets here.

Watch videos about their work here.

More info here.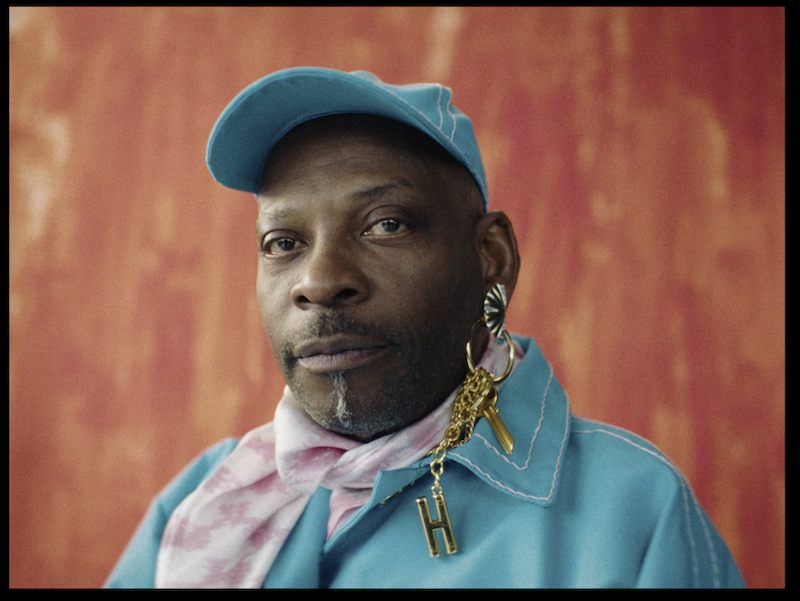 HENK
Film by: Sarah Blok, Lisa Konno
@ Felix Meritis Amsterdam
At 20.00 hrs

With Henk Shakison

HENK is a magical realistic portrait in film, fashion and photography about the Surinamese-Dutch caretaker of the Rietveld Academie. HENK is the last and third film in the documentary series about fathers with a migration background. It premiers on 15 April at Felix Meritis Amsterdam, together with a fashion exhibition.

On 19 April, the VPRO will broadcast the 2Doc short HENK on national television.

More info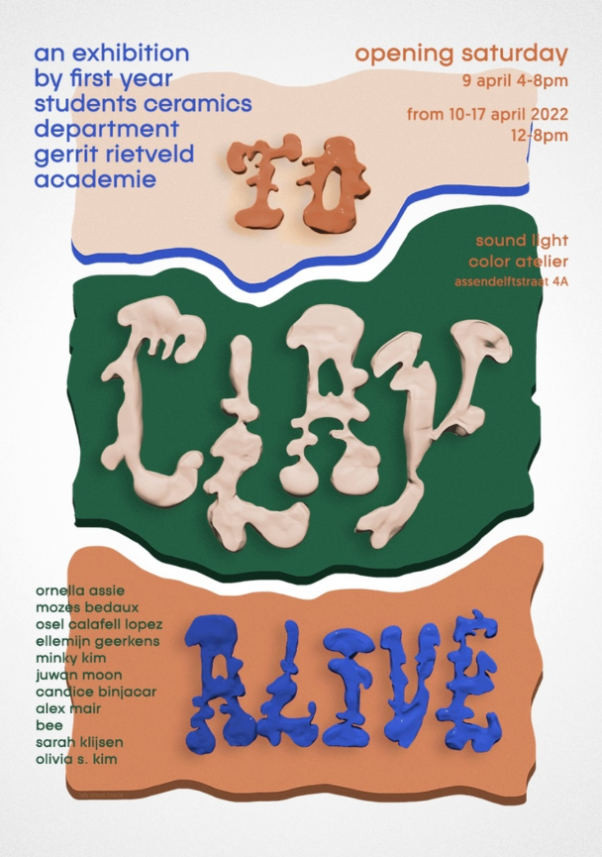 TO CLAY ALIVE
@ Sound Light Colour, Assendelftstraat 4A, Amsterdam

For this exhibition, Ceramics first-year students have been delving into their fascinations and searching for playful ways to transform them into tangible clay sculptures. In a way it is their manifest to say ; we are alive!

more info
NEXT STOP
By Beatriz Conefrey and Andoni Zamora

NEXT STOP is a performance piece happening while on a coach bus ride in Amsterdam. It travels along the perspective of an urban landscape that is not meant to be inhabited but to transit through.

To reserve a seat and receive the exact location of departure, you are invited to purchase a ticket.

21-04 20:49
22-04 20:50
23-04 20:52
24-04 20:54

more info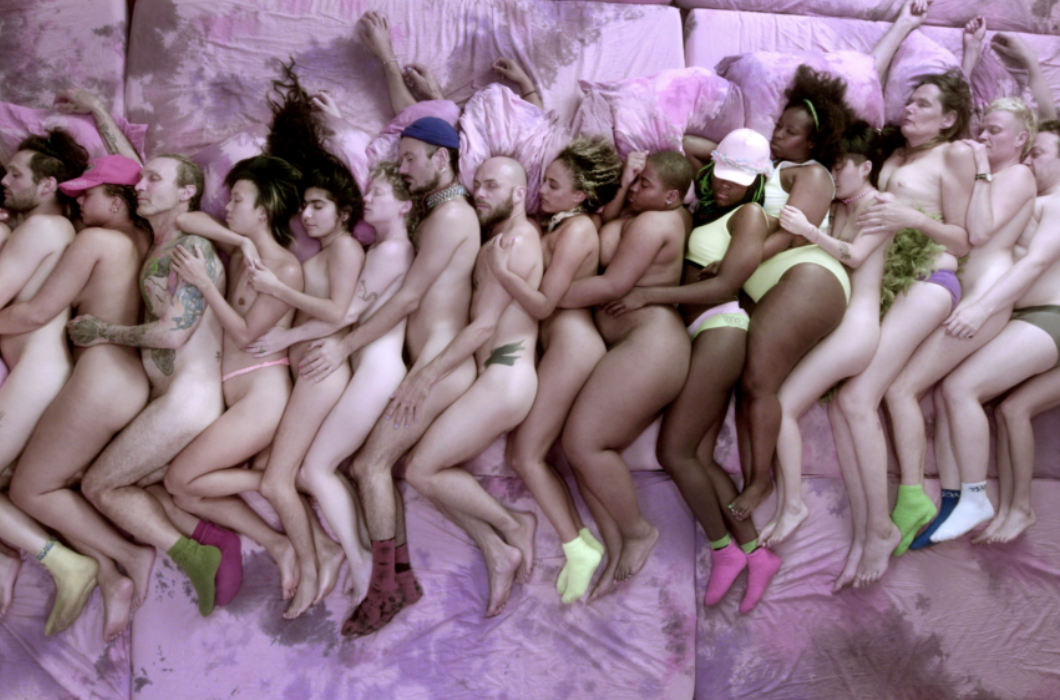 WHEN THE BODY SAYS YES
@ Dutch pavilion: Chiesetta della Misericordia in Venice, Italy

By Melanie Bonajo

Melanie bonajo is the artist who will represent the Netherlands at the 59th edition of the Venice Biennale in 2022. In the Dutch pavilion Bonajo will present a new video installation called 'When the body says Yes'. The exhibition will take place at the Dutch pavilion's one-off location for the upcoming edition: the Chiesetta della Misericordia of Art Events in the Cannaregio neighbourhood

more info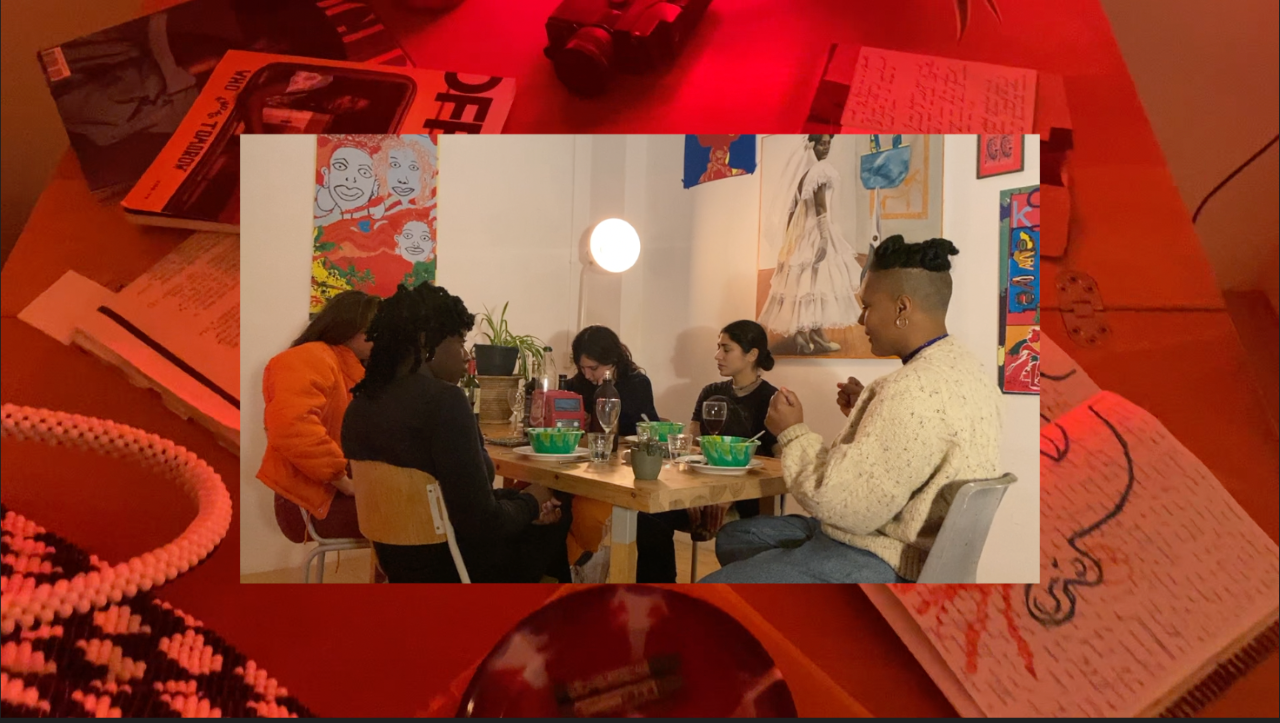 EIGHT CUBIC METERS BY ROXANE MBANGA
@ Sint Nicolaasstraat, Amsterdam (at the corner of the HEMA Nieuwendijk)

By Roxane Mbanga

Like the gatherings organized by Paulette and Jeanne Nardal in Paris in the early 1930s, Roxane Mbanga organized a series of filmed dinners held every Monday in March in her multimedia installation NOIRES. She invited Amsterdam-based artists working on the perception of self, gender and/or racial identity to converse about how they are perceived in the Netherlands and its consequences on their artistic practice.

Part of Rietveld Review(ed) 2021.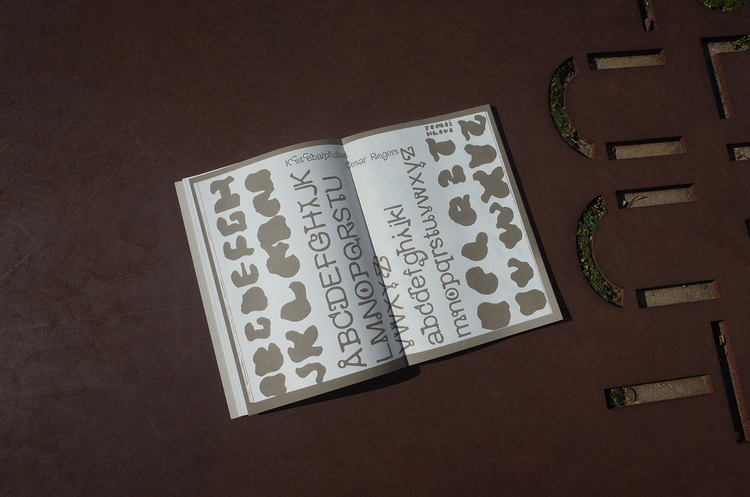 SILLY AMATEUR DON'T CRY: A PUBLICATION
@ Fanfare, Da Costakade 154 Amsterdam

A publication dedicated to 50+ experimental typefaces made by students and alumni of the Gerrit Rietveld Academie.


SMOOTH DEPTH
@ Horizonverticaal, Haarlem

With Gerbrand Burger, Henk Delabie, Ton van Kints and Bart Vandevijvere

This four-person show brings together artists from Belgium and the Netherlands. Their paintings and sculptures both rough and elegant and the result of the intuitively stacking of actions. The result is an exhibition of layered works that invite to look harder.

Friday 7 May, 15:00
Artist talk with Gerbrand Burger and Ton van Kints

More info here.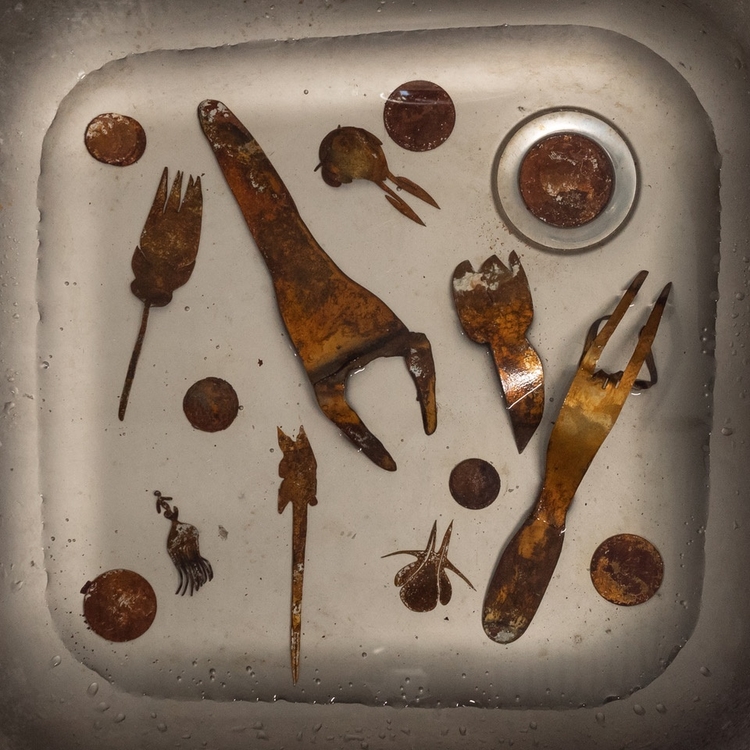 RIETVELD - HUYGENS EXCHANGE. WHAT HAS HUYGENS EVER DONE FOR US?
@ Huygens' Hofwijck, Voorburg

The Jewellery - Linking Bodies department of the Gerrit Rietveld Academie joins the 'Constantijn Huygens year' at Huygens' Hofwijck in Voorburg with an exhibition of ten projects.

Participating students are: Yawen Fu, Jakob Hodel, Zeke Isendahl, Ada Jochimsen, Myrthe Kamoen, Ayano Koda, Stella Lydaki, Karla Nilzen, Lente Oosterhuis and Alma Teer.

The accompanying brochure was designed and illustrated by Graphic Design students Kiki Gordon and Mila Landreau.

More info here.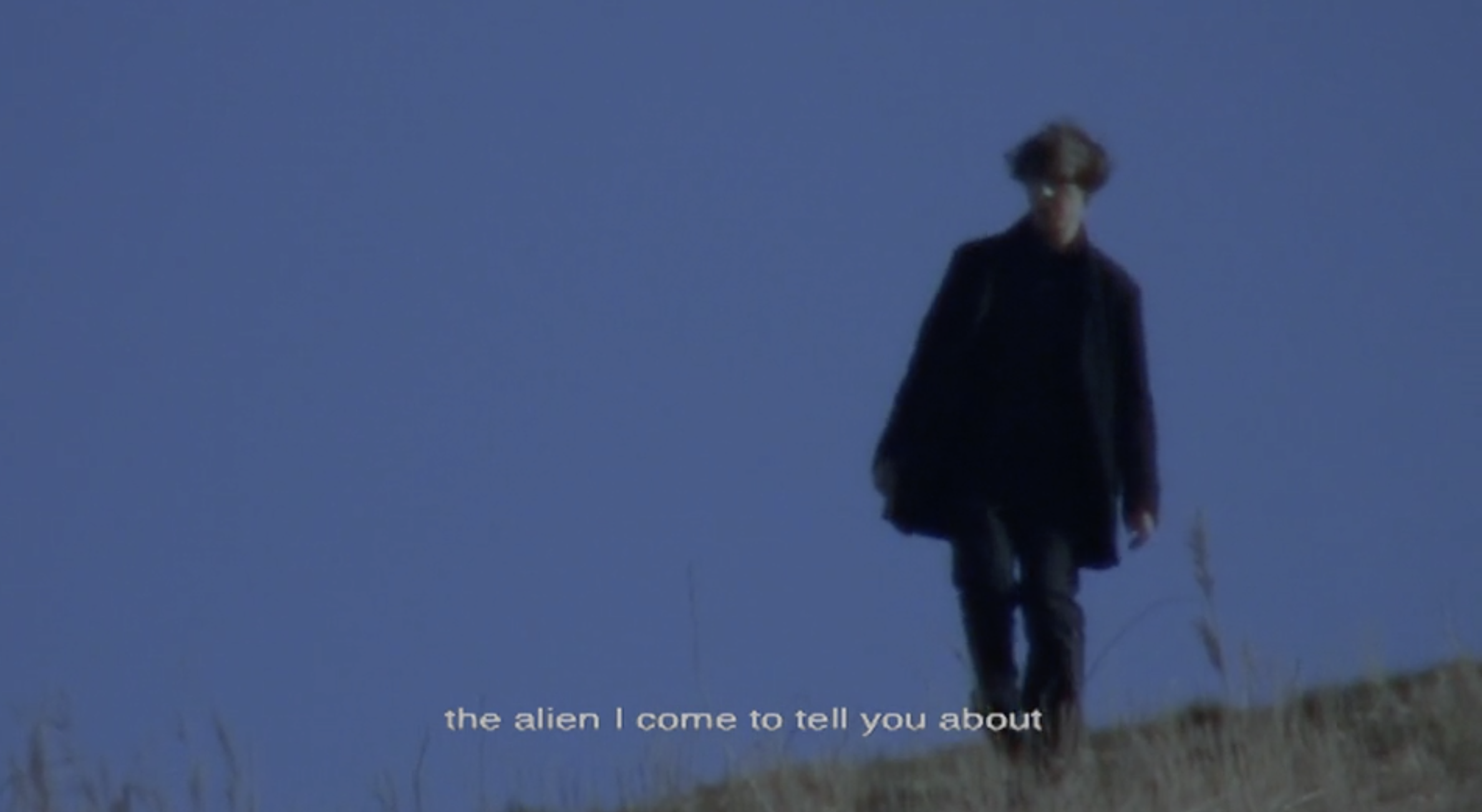 NEW EPISODE
Ein Aufenthalt auf der Erde

By Jun Ortega

Brought in by an ill wind, a stranger from another world falls to earth into the body of a young man. A glitch in this interchange hampers the alien consciousness to fully integrate in the new found carcass. We follow this being for a day in their muffled wander through earth.

Watch the new RietveldTV here.

Upcoming RietveldTV
30 APR & 1 MAY @AT5 - 22:40 by Eva van der Zand

Both are part of Rietveld Review(ed) 2021.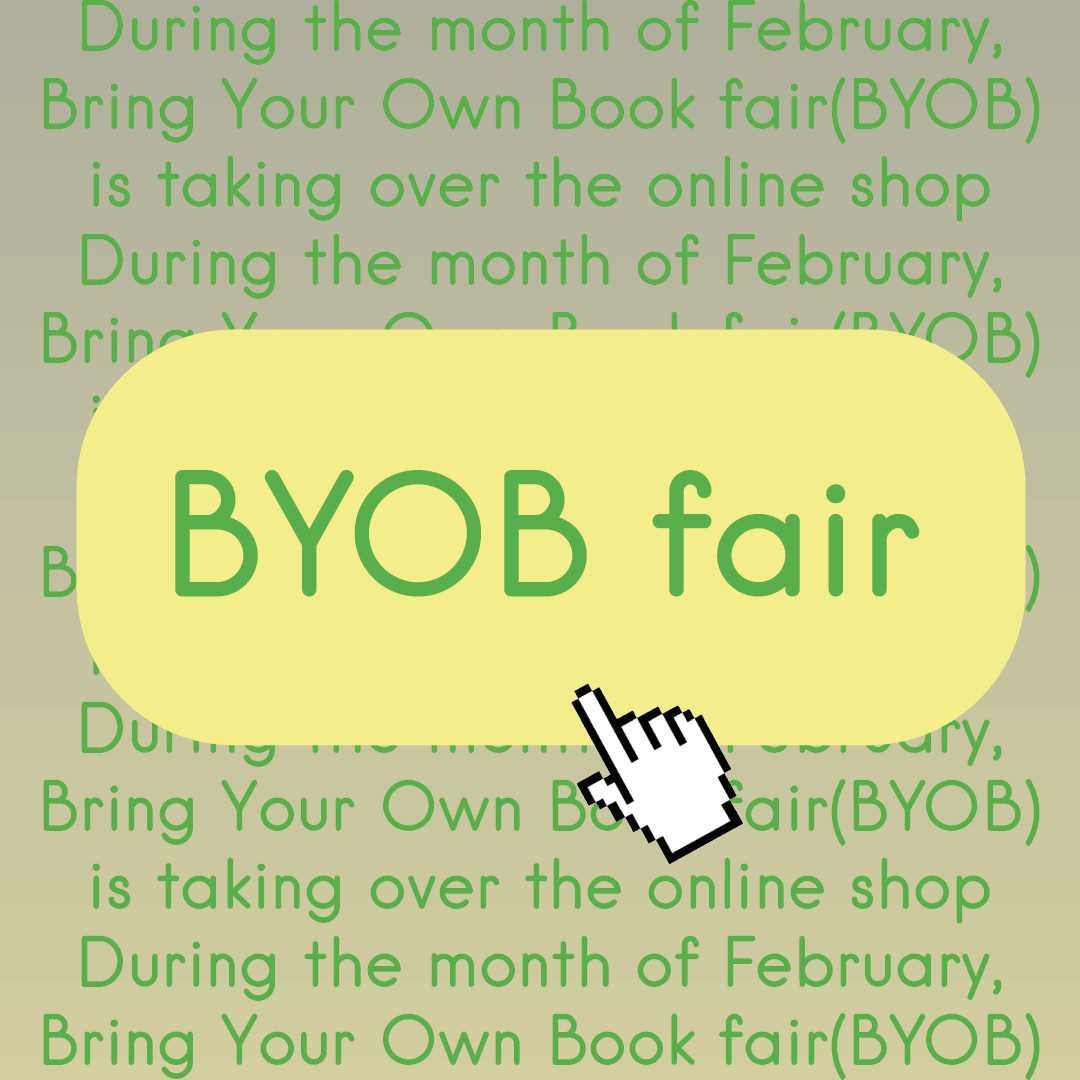 SHOP & SUPPORT FOR UKRAINE
In the Rietveld Shop you will find works and publications that are entirely made by students and alumni of Gerrit Rietveld Academie, Amsterdam. If an item has a 50% mark, half of the money will go to funds that assist those in crisis in Ukraine.

More info here.
CAWA
@ Lutkemeerweg, Amsterdam New-west

Four studio spaces are opening up in an old primary school building by het Lutkemeer, and are now open for application.

more info

-----------------

SLAK Ateliers
Studio houses ('atelierwoningen') for rent
@ Roermondsplein, Arnhem

more info